Posted on 2013-Feb-07
Smashwords a Good Choice for Indies
Smashwords is a popular option for authors and small presses that are looking to distribute their eBooks to major eBook platforms that can be troublesome. Apple's iBookstore can be a major pain in the rear to access as a publisher due to their long list of requirements and Barnes & Noble's Nook store is virtually impossible to publish at unless you are a United States citizen. By distributing EPUB eBooks to these platforms, Smashwords is an excellent choice for independent authors and small presses to sell their eBooks on all the major platforms (except for Amazon, which you should publish at directly via KDP). The company's underlying philosophy may mirror your own and was highlighted in a recent NPR interview with the CEO Mark Coker: empower authors to take control of their publishing decisions.
So What's the Problem?
For the longest time, Smashwords relied on a conversion program known as The Meatgrinder. It required a Word .doc be uploaded and it would automatically convert this document into the eBook formats. As you probably know, this is an ugly, no-good, terrible way to make an eBook that doesn't even closely resemble anything professional. It didn't help that Smashwords offered no testing platform for eBook designers and DIY authors. Below is an example of a proper EPUB versus a hideous Smashwords-generated EPUB from their Meatgrinder: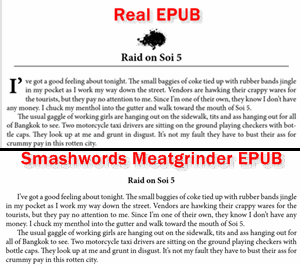 The Meatgrinder was the bane of eBook designers, publishers, and authors alike for quite some time, but luckily Smashwords changed their strategy…
Smashwords Direct for EPUB Uploads
Right before the New Year, Smashwords announced a new program whereby you could upload an EPUB directly, effectively bypassing the dreaded Meatgrinder. The Smashwords Direct program is still a bit buggy, and technical documentation and response to inquiries from their team is non-existent. However, after an exhaustive one-month testing period, BB eBooks has found some of the quirks and things to avoid. By following these guidelines, your eBook should get into "Premium Status", which means Smashwords will commence distribution of your EPUB to other platforms. Below is a list and if you know of any more please leave a comment:
1. EPUBCheck: The EPUB must conform to the EPUB 2.0.1 specification and it must pass EPUBCheck (please note that all clients of BB eBooks always receive a validated EPUB per EPUBCheck without exception).
2. The Cover: The cover you upload to Smashwords should be at least 1400px wide; however, the cover you embed in the eBook package can be any size (we usually embed 1024px in height covers for clients of BB eBooks). Make sure the title you list for the book is the same as the title on the cover.
3. The Title Page: You must have a copyright statement and "Smashwords Edition" written on the first page of your eBook. Also, the title of your book must be in text at the top of the title page and not an image as text. Below is an example of a title page for an EPUB that was approved for Premium: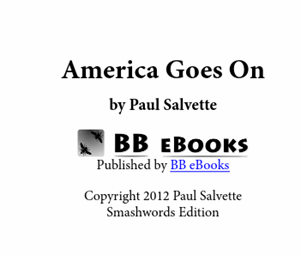 4. No hyperlinks to eBook Platforms (especially Amazon!): Do not place hyperlinks to product pages on Amazon. To be on the safe side, BB eBooks advises not placing any hyperlinks to major eBook platforms (Kobo, B & N, etc.) anywhere in your eBooks. The Amazon links will get flagged by the Smashwords team and you will have to rebuild your EPUB. It's sort of the Josef Stalin school of information control: erase all references to Amazon and they will cease to exist. We're not ragging too much on Smashwords, since this dumb policy is probably stipulated by the platforms they distribute to. A good workaround for this is to provide a link to somewhere on your website that contains all your books and where they are sold.
How to Upload Your EPUB or Update Your Meatgrinder EPUB to a Real EPUB
Since Smashwords Direct is still in beta, the upload process is a bit…finicky. We've had reports that using Google Chrome to upload didn't work and that the error messages given were weird. However, it is possible to upload your EPUB directly and even update your previous Meatgrinder-generated file to a proper EPUB. To summarize the whole song and dance, BB eBooks made a quick video to show you how to do it. We hope that this is useful for you:
[0:05] - What is EPUB Direct from Smashwords?
[1:19] - Smashwords-specific requirements for the EPUB
[2:47] - Validating your EPUB per EPUBCheck
[3:41] - Entering metadata and in the publishing section of Smashwords
[5:55] - Uploading your cover (note: must be at least 1400px wide)
[6:27] - Uploading your EPUB eBook
[7:05] - Verifying EPUB upload on your product page
[7:48] - Assigning an ISBN to your eBook
[8:15] - Examining your dashboard (should say "Pending Review")
[8:50] - Getting email from Smashwords confirming EPUBCheck verification
[9:15] - Updating your Smashwords eBook with a new EPUB and cover
[11:30] - Resubmitting your eBook for Premium Status following updating
Please note that the only downside of going EPUB-only at Smashwords is that right now they do not have a sampling option.
Get Your Smashwords EPUBs at BB eBooks
We have tested and found that nothing in the EPUB that is uploaded by the author is altered by Smashwords (thank heavens!). BB eBooks would be happy to work with you to get you your EPUB eBook ready for Smashwords. All EPUB/MOBI conversions performed by us will now include a special "Smashwords EPUB" as part of our package. We are no longer offering the Meatgrinder .doc (good riddance). Please contact us for a quote on your eBook today and I hope we can work together on your publishing endeavors.
Label: Technical and Design
comments powered by

Disqus