Posted on 2012-Jul-18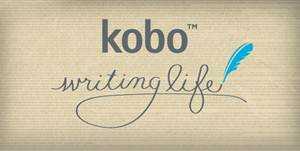 The Canadian-based company Kobo (which was recently acquired by the Japanese ecommerce giant Rakuten) has launched their much anticipated self-publishing platform: Kobo Writing Life. This provides independent authors and small presses new opportunities to sell their eBooks at a new site and penetrate markets outside of the Amazon ecosystem. While it has been possible to get your eBook for sale at Kobo through Smashwords, the opportunity to directly upload an EPUB to the Writing Life store ensures that Kobo readers receive a professional-quality eBook without the ugliness of .doc to EPUB conversion.
A Company That is Serious about International Markets
While Amazon does have an international presence, it seems that its e-commerce and Kindle sales are primarily geared toward Americans. It would be foolish for any author to ignore Amazon and the American eBook market, but other eBook markets where English is the main language such as Canada, Australia, New Zealand, and the UK should not be ignored either. In an interview with Digital Book World, Kobo's VP Content, Sales, and Marketing said the following:
Kobo was born international and knew from the very beginning that the only way to succeed in the e-book business was to be an international company.
Kobo boasts a 46% market share in Canada and a 15% market share in Australia, which is definitely respectable. With such a strong international focus, they could potentially begin to penetrate under-served markets with a large amount of English speakers such as India and Nigeria. Even if your book isn't a best seller in the States, it may do well in other markets, so don't be afraid to sell outside of the USA.
Signing Up for Kobo's Writing Life and Uploading Your eBook
It's easy to set up your account on Kobo Writing Life. You just need to have a bank account and you have to earn $100 before they will transfer money to you. There are no registration fees for Kobo Writing Life and no setup fees for self-publishing your eBook at Kobo. Royalties are currently set at 70% for $1.99 or higher and 45% otherwise. Please note that the VAT may apply for eBook sales in some countries.
The following guidelines from BB eBooks can help ensure your eBook looks professional:
eBook should be uploaded in the EPUB format
Cover Image should be

2500x1562px

to ensure "future-proofing"
ISBN is Required
It is unfortunate that an ISBN is required, because they are absurdly expensive and provide little to no value for the small publisher (thank heavens for government-mandated monopolies). However, Kobo Writing Life seems very supportive of self-publishing other than the ISBN requiremet. There are more details on this new self-publishing platform in the Kobo Writing Life User's Guide (pdf).
A Quick Note on EPUB Conversion at Kobo Writing Life
You may be tempted to try and convert your manuscript from .doc, .docx, or some other word processing format to the EPUB eBook format sold by Kobo. They offer this service free of charge. Please, do not try this. Kobo uses Calibre, an open-source eBook library management system intended for personal reader use, to convert fixed-layout formats to EPUB. The results are less-than-stellar: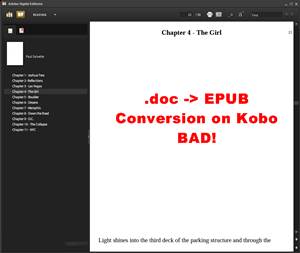 EPUB eBook following Kobo's Conversion from .doc
To get a professional EPUB you need to either learn all about HTML, CSS, and XML to do it yourself or contact BB eBooks for a quote on your manuscript. Your readers deserve a professional-quality eBook.
Good luck with your sales on this exciting, new platform!
Label: Self-Publishing
comments powered by

Disqus