Posted on 2014-Apr-27
Working at the Source: Not Recommended
Making changes yourself to EPUB and MOBI files is not an easy task. Calibre has an editing tool, but we tend to recommend authors and publishers avoid Calibre: while it is an excellent "consumer"-level tool it is not intended as a production tool. Sigil allowed pretty good EPUB editing capabilities, but development has as of this year ceased and it never upgraded to EPUB3. It does not help that the MOBI/KF8 is a compiled binary format whose inner workings are sort of kept secret by Amazon, who owns the platform.
Additionally, most customers require a wide variety of different eBook editions for different vendors (an EPUB for Google Play, an EPUB for Smashwords, a MOBI/KF8 for Amazon, etc.) and changing a single typo requires making a change to each and every one of those editions (a drudge of a task).
BB eBooks uses our own proprietary XHTML workflow and software to have one source file get transformed into eBooks for all vendors. Our workflow was designed over the last two years with the following in mind:
Extremely strict quality control standards
Ability to create eBooks as fast as possible to deal with the tremendous demands on indie publishers by their readers
Future-proofing so that changes can be made quickly as the vendors adopt new standards
You will notice that "a user friendly interface" is not on the list. Below is an example source from a "simpler" eBook: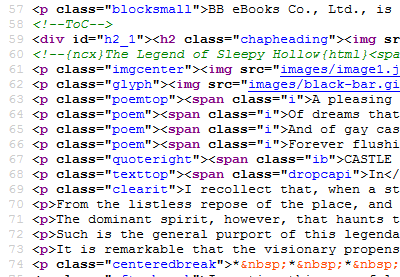 Working directly with XHTML as a source document is extremely complicated, requires extensive training, and even the most seemingly inane errors will "break" the entire eBook preventing publication. We know that authors and publishers have a zillion things to worry about, so we don't subject our beloved clients to deal with the hassle of understanding this technical mumbo-jumbo.
So How Do I Make Changes?
We understand that authors will discover typos, add more people to the Acknowledgments section, swap out the cover, etc. Bottom line: there is almost always need to make changes to their eBooks. Not to worry, as BB eBooks maintains the source files of all clients on our server as well as backed up offsite. Therefore, changes to all your eBook editions (and your Smashwords .doc/PDF eBook/POD interior if you chose this package) can be made quickly—usually within 24 hours time on weekdays. There is usually no charge for changes unless they are extensive: we'll be sure to let you know if there will be a charge beforehand.
For most simple changes (a single typo, a new cover), please just send us an email with what you need done and our team will take care of your books right away.
Minor Changes (>10)
Since using a text editor with XHTML would be a waste of your time, we recommend an easier way to instruct us what to change in your document. 80% of our clients use Microsoft Word and there's some nifty tools that allow an easy way to see which changes have been made. If you have already sent us your manuscript, you can use the Track Changes feature in Word and edit your manuscript. Please perform the following steps:
Enable Track Changes by going to Review > Track Changes
View the changes made by setting view to Final: Show Markup
Begin making edits to your manuscript
Save Word document and send to BB eBooks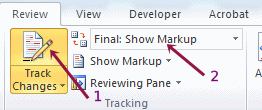 The Track Changes will look like this as you enter them in:

Please note: to get rid of the markup in your content, you can set the view to Final instead of Final: Show Markup. Since we'll be able to see what changes you have made with Track Changes, we can easily handle the editing of your eBook, Smashwords .doc, PDF, and POD interior source files.
Occasionally, an editor or beta reader may not have used Track Changes, so it is difficult to see what edits have been made. Not to worry! An alternative method to see what changes have been made is to use the Compare Documents feature in Word. To see the differences between any two documents in Word, please perform the following steps:
Have your unedited and edited Word files in the same directory
Click on Review > Compare > > Compare
Select unedited Word document for Original and edited Word Document for Revised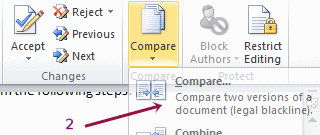 Once you perform these steps, you'll get a handy summary showing all differences between the two documents. Below is an example: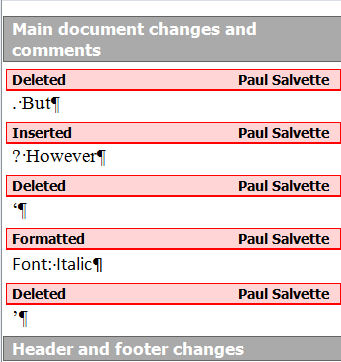 In terms of working with BB eBooks, if you send us a manuscript to convert, then you make some changes to your manuscript. We can check the old vs. the new manuscript to see exactly what changes need to be made.
Major Changes (> 100)
For significant changes to your manuscript, it is recommended you allow us to do a complete reconversion based on the newest manuscript. We can usually offer a small discount from the original quote to do a full reconversion. Please consult with us for your best options.
Sometimes, our clients would like a well-formatted document that they expect to make numerous changes to. An example is a publisher who is working on an anthology and wants the contributors to make changes in a Word document. What we can do at BB eBooks is provide you with a "Galley" Word document that has all the formatting niceties (e.g. curled quotes, proper headings, etc.) but is in Word so can be easily edited. Please talk with us if you would like the galley option (best for clients expecting major changes) and we can provide one of these for a small surcharge. Once the galley is edited by you, we'll perform the eBook conversion on this edition.
Label: BB eBooks Company News
comments powered by

Disqus