Posted on 2013-Nov-22
Kindle on Fire

In the world of eBooks where the inconsistent ups and downs in sales might haunt you for all the wrong reasons. In this upcoming season, you will be surprised that parental power can bring some smiles back to authors and distributors. According to a study in October by PlayCollective, 46% of parents plan to buy a new device and new eBooks for their children up 6% from last year. 57% of the parents intend to buy the new device for their child. Interestingly, 73% of parents are planning to buy new eBooks up 7% from last year.
Tablets still lead the way to be the top choice device when it comes to serving multi-purpose entertainment. Kindle Fire, to be more specifically, is the strongest contender for 2 years consecutively 29% in 2013 and 28% in 2012) being the device that parents will chase after. While the second runners-up are the combination of other tablet of unidentified manufacturer, it is worth noting that the current model of iPad (19%) is still considered to be the desirable alternative rather than a computer (18%) and Kindle (16%). 14% want to buy an iPad Mini for their children's eBook reading. While the combination of Nook eReaders still commands 20% of purchase plan, Kobo is a no-show in the chart.
Looking at the brighter future of eBooks, 73% of parents plan to buy them during the holiday season up 7% from last year. This percentage will need to be monitored with the correlation of sales once the holidays start. However, parents plan to spend less on their digital gifts as they tend to set a budget at $25.11 compared to last year's average at $28.26. Strangely, they are willing to spend more for an eBook title up to $7.00.
Upping the Quality Game

Elsewhere in the tech world, there is one explanation that boasts Kindle Fire's money-value worth. In their 'Mini Tablet Display Technology Shoot-Out', Display Mate set out on an important mission to compare the screen quality of iPad Mini with Retina Display, Kindle Fire HDX 7, and Google Nexus 7 (2013 edition). The findings and results might be surprising for Apple's products that have been long known for their razor-sharp excellence but the verdict is out in favor of Amazon and Google.
Through a number of different tests, the screen testing company admits how impressive it is for the tablets to outperform the spec sheet of a standard 50-inch HDTV screen considering their compact size. Citing the color gamut test to see how the device's screen can produce the range of color. Both Kindle Fire HDX and Nexus 7 are capable of providing 100% whereas the iPad Mini with Retina Display can only produce 60% color gamut.
Top-Earning Authors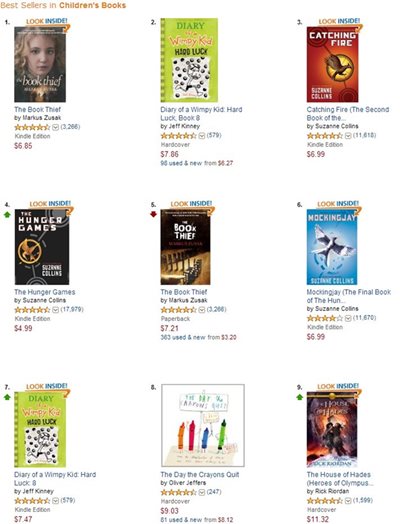 Early in August this year, a list of Top-Earning Authors of 2013 was announced to a fanfare on Forbes website. It was the list that allowed authors of diverse genres to mark their success. Several of the children's books authors will probably avert the grim forecast of the sales of children's books. Without the presence of A-lister titles like The Hunger Games this year, it seems the holiday season can still be perfectly entertaining when top-earning authors like Jeff Kinney, Suzanne Collins, and Rick Riordan are competing against one another on Amazon's Best Sellers in Children's Books. With Markus Zusak's latest title on the list, the book's film adaptation can be the real clincher for parents to choose either the normal Kindle Edition or the Enhanced Movie Tie-in Edition (preferably known as Kindle Edition with Audio/Video).
Kindle Edition with A/V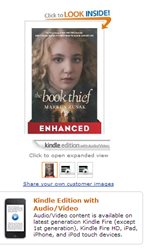 Holidays season is only weeks away. Kindle Fire will again become the phenomenal present that parents want to reward their children and gift eBooks to educate and entertain them accordingly. Apparently, Kindle Store will be the default choice to shop eBooks when the store is well integrated within the Kindle ecosystem. It will be interesting to see how the sales of children's books authors are performing over the next few weeks now that the enhanced eBook is tangibly concretized in Kindle Store's catalog.
Label: eBook Industry News
comments powered by

Disqus