Posted on 2013-Sep-27
Different eReading Ecosystems
Better late than never. Regardless of how many times I saw the list of programs and features major eBook vendors are continually adding, my only hope was to see how eReading apps and bookstores in my hometown offer the same standard if not more. So far, there are several online stores and apps that sell eBooks, in PDF/EPUB. However, Thai readers have to get accustomed to each unique design and settings to be able to use their system properly.
Personally, there is nothing wrong with the variety of homegrown offers to cater to the need of tech-savvy readers. Unfortunately, choosing to experiment with different stores only complicates the learning curve and, worse than that, promotes more errors to encounter. Thus, the quick reading enthusiasm dies down. The reading scenario in Thailand will soon change when the latest arrival of Google Play Books is made official here and now, according to The Digital Reader and CNET Asia.
First Impression
After I read the news with glee this morning, I tapped and swiped my screen like a five year old child playing Fruit Ninja or Candy Crush. On my Google-branded tablet, there was no need to download anything extra when Google Book is graciously integrated with the Play store. The banner on top of the page states the announcement in local language. Clicking it, you will be taken directly to Books page that shows recommended books for you to scroll vertically to quickly browse the catalogue. Swiping left and right will enable you to switch between different header menus: Categories, Home, New Arrivals in Fiction/Non-Fiction, Top Selling/Free. To view the entire store in full glory, you can just rotate your orientation to landscape mode.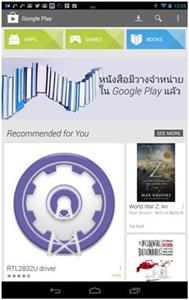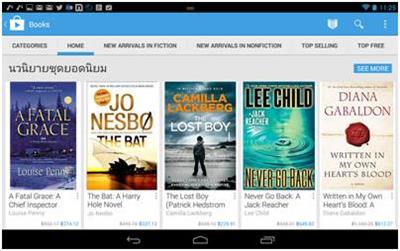 Let Thai Voices be Heard
The excitement grew as I browsed the still-limited catalogue of eBooks written by local and foreign authors. Seeing the book price in Baht currency gave some sense of comfort and familiarity for the future plan to buy the book with the right price. What matters to me the most is the opportunity to browse the entire catalogue for my favorite books and witness how Thai authors being listed in the store. Only time will tell how many aspiring Thai authors are willing to brace for the competition and present their creative works to appeal the international audience in English as a lingua franca.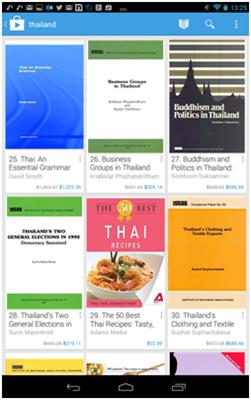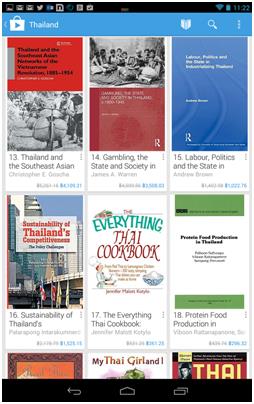 Common Features
In terms of eReading system, the similar interface has been seen before in other apps I have used but that is not all. While font, margin, brightness, theme, text alignment adjustment and ToC access will leave plenty of rooms for avid readers to customize their best reading environment, the additional features will set Google Play Books apart from the rest of the pack. Original pages/Flowing text, Read aloud, live search and translation add essential functionality to reading experience and help readers understand the story more conveniently.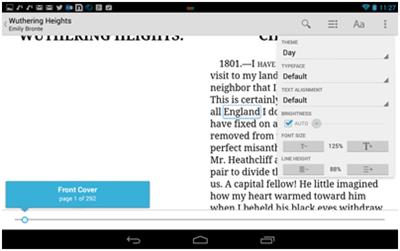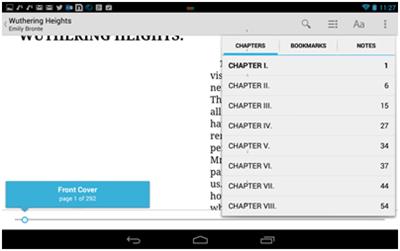 Striking Enhancements
An overview of what these functions can do:
• Original pages/Flowing text: while reading free classics (Call of the Wild, Wuthering Heights), enabling this function will allow readers to see the book's raw form in prints. For those who are still attached to the sentimental value of print books, this killer feature will have you fall in love with the scanned version yet requires the task of pinch and zoom to read comfortably. To switch back to its modernity, clicking Flowing text will resume the way reflowable format that texts fill the entire screen.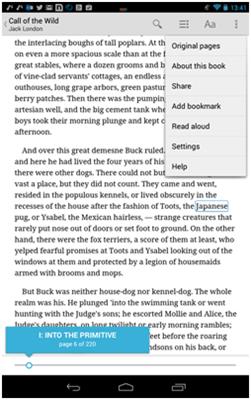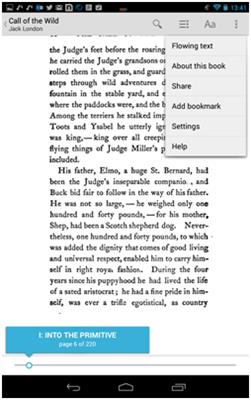 • Read aloud: albeit the self-explanatory namesake, the familiarity of hearing the same voice that navigates your favorite traffic route in Google Now will ensure that you do not need to be in front of the tablet to actually read all the time. Imagine if you are busy in the kitchen, you can connect your tablet wirelessly with Bluetooth speakers to listen in a clearer and louder narration. To temporarily pause and resume it, just tap lightly anywhere on the screen. You will have to click the three dots icon to access the settings to stop it. This function does not work when you choose Original pages mode.
• Live search/translation: you might say "Meh," it has been done too many times before. There is a new twist to jazz up the simple feature. As you might have known, Google is an expert in developing their search engine and created Google Now. Long tap to highlight any word will prompt a popup card to respond to your queries. Looking up the internal dictionary and adding note seem outdated when you can search for more. Translating from English to Thai can vastly broaden EFL students' knowledge. Not only that, with certain keywords like countries, the system will show brief information in cards for you to look up more details in Google Maps, Earth, Wikipedia (website/app), and web browser. This is by far the most surprising feature when I was reading Wuthering Heights and tried to look for different keywords randomly. I did not anticipate such an extensive search from an eReading app. Ultimately, the enhanced search result of "England" was presented in expandable card that weirdly reminded me of the gigantic encyclopedia left buried in my cupboard.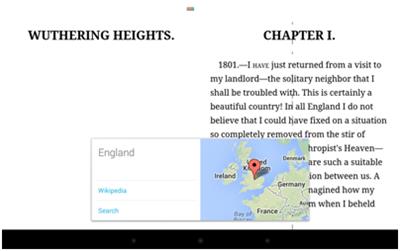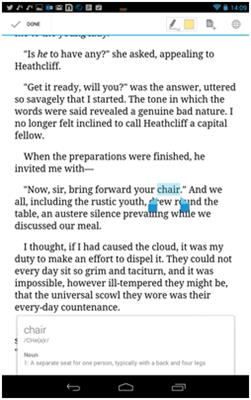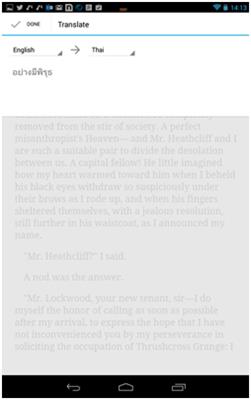 DRM Comeback
Reading offline is also possible as you can always rely on in-app system. Referring to Google help page, you can transfer the downloaded book to other devices but heed their words of advice carefully since many of the eBooks are embedded with DRM. Furthermore, Google makes it clear that their books are not compatible with the Kindle at least for now. Back to offline reading, since there are two file types of eBook, there are significant differences worth frowning upon. Obviously, reading the book in PDF does not share the same privilege as its reflowable cousin, EPUB. Not only you cannot instruct the system to read aloud, zooming in the text to the maximum level will reveal its pixelated edge and blurry presentation due to the scanned quality.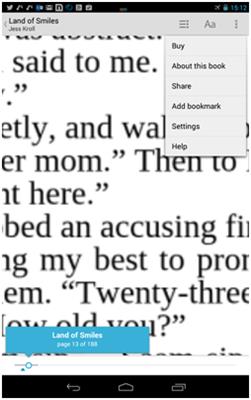 Why Thai Publishers Should Care?
It has been a fun ride toying with Google Play Books even for a few hours. Forgive me if I digressed today towards being addicted to the slick functionality of the newly available free app. With Google testing the eBook market in Thailand, there are so many things both international and local booksellers can learn from one another. To win the heart of Thai readers, Google will need to work hard with local publishers to publish local content like many other websites are doing. At the same time, local bookstores need to develop their user interface and app's stability to eliminate the errors to win back reader's trust. The more stably and enjoyably the readers are exposed to an eReading system, the more likely they will start to read for more and get comfortable with eBook in the commercial sense. Google's critical move to expand their market can also be seen in relation to Android's dominance in SEA markets, according to CNET Asia. May the new chapter of eBook reading constantly evolve in Thailand.
Label: eBook Industry News
comments powered by

Disqus