Posted on 2013-Jan-16
Out-of-Stock Paperwhite
It is not surprising that Kindle Paperwhite has remained out of stock when the news broke out that the popular eReader was not available at Office Max and Office Depot today. At Office Depot's website, you can enter different zip codes to see whether you could have some luck finding the brick and mortar shop that has stocked the Paperwhite.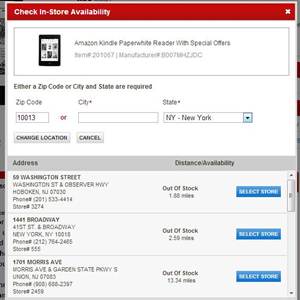 Similarly, the search of Kindle Paperwhite returns with Kindle Fire accessories at Office Max.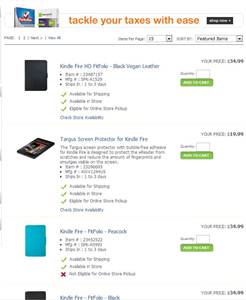 Children Read More Books

Ever since the eReader has been put on display for consumers, the product goes missing from the shelf from virtual and physical portals. One thing that we can all learn from this is eBook population keeps expanding extensively. According to this report from Scholastic, you might get a sense why children are following the footsteps of the elder citizenry in cultivating the eBook reading habit apart from finger swiping to exterminate zombies on tablets. Don't get the wrong impression that I hold it against multi-tasking palm-sized device. e-Ink display is made perfectly for readers of any age or gender.
The new statistics show that boys tend to read more as opposed to the traditional belief that they are reluctant readers. The discrepancy of the reading statistics demonstrates that 44% of boys have read an eBook in 2012 up from 23% in 2010. Although girls still top the chart with 47% up from 28% two years ago, their increasing percentage surprisingly trails behind boys whose 21% increase is considered a significant boost. In general, children continue to enjoy reading more outperforming their parents' statistics. Both parents and children cordially agree that portability and content accessibility are the key to their likes. One comment in Huffington Post praises the obvious advantages of portability among young students.
e-Ink is Definitely Not Dead

Part of eBooks' success might come from e-Ink display that helps legitimize reading on eReaders. The so-called comparison between reading on eReaders and other electronic devices might be never-ending. One reader likes eye-friendly display and functional simplicity whereas the other roots for the true-to-life display that brings the enhanced content on certain eBooks to the next level. Admittedly, I was institutionalized in the school of vibrant display devices with multi-tasking smartness worthy of future investment whereas eReaders were out of my intuition. Until recently, I read about how convenient and durable the eReader can be and my attitude swayed. The actual reading experience on a glass screen can be disturbing after a continued period of intensive reading unlike the static black and white screen that emits adjustable brightness. Although the brilliant display on tablets and smartphones is excellent in displaying picturesque images and lifelike videos, the reflection on the screen can be unbearable at times.
Personal Revelation of eBook Reading Passion
If you have not thought about why reading eBooks matter at all, this blog may change your perception for what it summarizes the history that has had ups and downs like any other innovative product. In the first phase of electronic reading, Gen Z folks might not understand the low-res pixel display of 160 X 160 in the name of Handspring Visor Deluxe. To feed your curiosity, Amazon still sells the device that features 8MB of RAM. According to the writer, eBook piracy was sought after in the early days when commercial catalogues did not exist. When retailers decided to bring eBooks out of the underground and into affordable retailing package, there was no need to invade the intellectual property. eReaders in his opinion are used differently depending on the occasion. Apart from reading intensely, he maximizes his profitability through fiction and non-fiction books and devotes himself to be a social media coach.
How Does Reading Change a Reader?

Reading eBooks is proven to be more popular among children especially when nearly 50% of parents think that their children do not spend enough time reading books for fun. The plateau of young generation's proportion to fancy reading eBooks can signify a significant move for authors to take note and produce the content based on their interest. Although it is not told elsewhere, my humble opinion foretells that sci-fi genre could draw more boys to enjoy the after-class hobby. Romance can build a greater impact for girls who need some guidance and courage to handle love stories. Electronic reading devices are affordably available for everyone; however, the ultimate experience lies in eReaders as the name suggests what their core function is. The history of the eBook is far from over, judging by the increasing acceptance. The writer of the blog above shares his passion how reading allowed him to be an author and a coach to help other people establish a career out of literacy. What's your story?
Label: eBook Industry News
comments powered by

Disqus