Posted on 2013-Nov-13
Are eBook Sales Totally Flat?

With speculation that digital publication/eBook might reach the later stage of development, the data that suggests the stagnated growth of the sales is pretty much accepted by many interpreters. Citing the slow growth from Book Industry Study Group (BISG)'s study, eBook sales have remained stalled for the past year. Despite the fact that there are positive signals coming from the consumers that they plan to buy tablets and eReaders, is it about time that authors and publishers should reconsider their eBook strategy?
Unimpressive Unproductivity

Following the study from the BISG, there have been hardly any changes in terms of new eBooks sold in units and dollars. According to Digital Book World that refers to the study, the share of sold eBook has remained 30% in units and 15% in dollars. The number of eBook customers has also remained unchanged; the percentage of book buyers who read eBooks daily/weekly is 20% compared to 25% of book buyers who have bought an eBook.
Jo Henry, Director of Nielsen Book Research, also said that their four annual research surveys show that "e-books are in the later stages of the innovation curve and have settled into reasonably predictable consumption patterns. The likelihood of future growth will, in part, depend on improving the value perception of e-books among less committed users."
HarperCollins' Revenue Increase

Nonetheless, The Digital Reader wrote his blog title in a question: "If the eBook Market is Flattening out Then Why are eBook Sales up at HarperCollins and Hachette?" The writer is more specific about the country that the eBook sales might have been slow yet mentions two publishers' revenue increase in the past quarter. HarperCollins refers to in its quarterly report that eBook revenue has significantly gone up to 22% revenue up from 15% last year.
Hachette's eBooks Sales Report
Citing a quarterly financial statement from Lagardère, the parent company of Hachette Book Group, eBooks are reported to see a revenue increase of 27% of the trade market in the U.S. (compared to 20% in the third quarter last year) and 30% of the Adult trade market in the U.K. (compared to 20% in the third quarter last year).
Amazon.com.au

If eBook sales had been performing disappointingly, today's announcement of Amazon's Australian Kindle Store launch would have probably been rendered insignificant. On the contrary, the news became media fanfare that Kindle devices and 2.1 million eBooks can domestically be shipped to Australian customers. The Digital Reader analyzes Amazon's decision to "stop the market share from dropping" as it is facing the fierce competition from Google, Apple, Kobo, and local independent ebookstores.
Local eBooks in Local Currency
Although most eBooks are already available in US Kindle store, customers can now check out their favorite eBooks in their local currency. There are more than 700,000 titles priced at $3.99 and 1.4 million titles at $9.99 to choose from. Best-selling titles are lined up to be downloaded such as At the Close of Play by Ricky Ponting, Doctor Sleep by Stephen King, Eyrie by Tim Winton. Australian classics are also available in the store from Indigenous publisher. Most importantly, Australian independent authors and publishers can publish through KDP and earn the 70% royalty rate to sell in 175 countries.
What's Happening to eBook's International Sales?
The future of eBook sales is still growing as publishers and distributors report their exponential growth and business expansion. The financial statements released by HarperCollins and Hachette point in the same direction that eBook sales continue to grow. Apart from the U.S. market, Hachette also reveals the bright future of eBook market in the UK. Perhaps, if publishers release more reports of their international eBooks' sales, the sales data will be closer to reality to reflect eBook penetration in the bigger picture. Amazon's latest Kindle Store and the fierce competition in Australian eBook market somehow show that there are strong demands from existing eBook readers. However, price will be one of the controlling factors to judge eBook's adoption rate in the international market. This customer review reflects how a publisher should reset this ridiculously expensive eBook.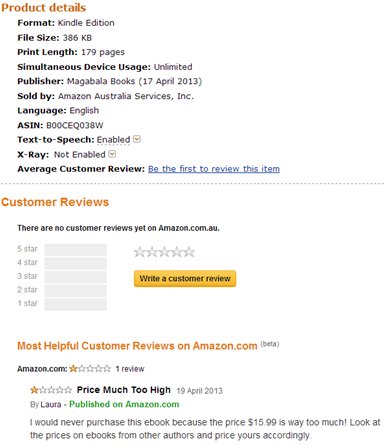 Label: eBook Industry News
comments powered by

Disqus