Posted on 2013-Oct-07
Thailand's Publishing Industry Needs Visionary Solution
The Future of eBook Subscription Services
To put into perspective what the latest eBook market is doing, it seems eBook subscription service providers have begun to open a new chapter of reading for readers to explore the books that they may like conveniently. This is based on other entertainment business models that work for general consumers like NetFlix, Spotify, and Pandora. Why pay extra when you can set a definite budget to control your spending on reading for pleasure? Of course, paying for subscriptions means readers will be tied to a bookstore's catalogue for less than $10 per month. Despite its slow start, several bloggers continually voice a split opinion how the subscription will win favor of readers.
Economic Slowdown Affecting Thailand's Publishing Business

In Thailand, let's skip the eBook subscription plan for a moment. The book market is not looking good at the moment when sales saw 20% decline due to the economic slowdown according to the Nation newspaper quoting the Publishers and Booksellers Association of Thailand (PUBAT). Although it already sounded bad in percentage, the said loss cut deep into the publishing industry worth of 30,000 million baht (approx. US$968 million).
A Case Study of the SE-ED Bookstores
In the publishing business, book shops and large bookstores have suffered the same fate of sharing the sales drop ranging from 10-20%. SE-ED Center, one of the largest bookstores in Thailand, had to close down 10 stores that operate in the upcountry as a result of this sales drop. Earlier in June, an interview with Mr. Meechoke Thongsawai, Director of Academic Consulting and International Business of SE-ED Bookstore, displayed a thoughtful insight what the company is facing.
eBook as "Fashion"?

Although eBooks have been advertised as the future of digital publication in Thailand, its presence still remains obscure among content providers. Based on SE-ED's analysis, eBooks were seen like a "fashion" statement, a nice thing to have but there was no record showing how many readers were actually buying it. The lack of eBook presence was even more noticeably prominent when the camera panned around the store. 100% of their products were books placed on top of one another without even one corner showcasing eBooks in sight. To answer the question about the average sales per month, Mr. Meechoke said that the power book buyers themselves would averagely buy 2-3 books a month. The rest tended to be window shoppers browsing the store and leave empty-handed.
Bookstore's Convenience
To encourage readers to buy more books, he said that opening the bookstore in a convenient area would facilitate readers to buy them anywhere and E-commerce was another system that could help their customers pick up their books from any branch located nearest to where they live. However, this particular point might not be valid when economic slowdown played a pivotal role in adding household debt.
Readers can also make an online purchase of their books and have them mailed to their house so that they do not have to go the actual bookstore. Without a doubt, online shopping experience made double-digit growth according to Mr. Meechoke's information but the actual figure was not disclosed.
Browsing Experience on SE-ED's Website
Onto the best-selling titles, fiction gave a big picture of best sellers. Mr. Meechoke further broke down fiction into several popular sub-genres: religious, self-help, meditation. To believe his statement is to see the website.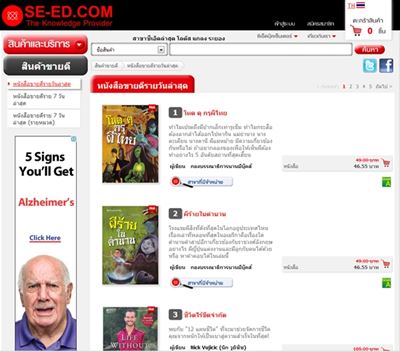 I looked at the Top 10 best-selling print books today, traditional ghost stories and self-help tended to dominate the Thailand chart whereas the best-selling charts for eBooks are restricted to be genre-based.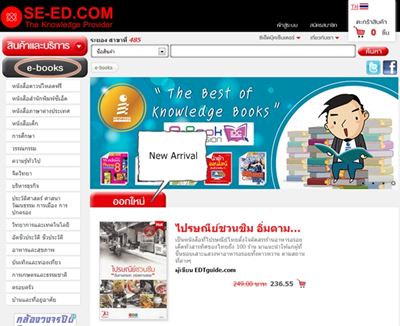 Once I clicked the genre I wanted to browse, the default page would automatically take me to New Arrival. To look at the bestselling titles within a genre, I had to click the drop down menu to instruct the page to sort the sales volume from high to low numbers.
All in all, I found the eBook catalog to be a bit complicated to browse, especially for casual readers who want to scan best-selling titles as a basic guide of what they should read.
Lessen the Risk with a Stimulus Plan
Back to the information provided by PUBAT, publishers already use their social media channels to help with their business. Book distribution has undergone a change when POD is chosen to gradually replace stocking print books in great volume to lessen the risk. 18th Book Expo Thailand 2013, to be held from October 16 – 27 at the Queen Sirikit National Convention Centre, hopes to stimulate the book business. Regardless of Bangkok being chosen as the "World Book Capital 2013," PUBAT president-Mr. Charun Homtienthong-said that there was no concrete plan to increase readership in the Thailand.
eBook Catering to the Need of Smart Device Readers
Although eBooks are missing from the association's statement, BB eBooks will observe how the digital publication is leading and blog about the expo with pictures in the next few weeks. Our hope is that authors will expose themselves to digital publication in the midst of an economic slowdown Thailand and elsewhere. Obviously, the closure of brick and mortar bookstores is nothing new. Eventually, publishers and authors will need a better understanding of how eBook technology can increase opportunities to sell more of their content more efficiently wirelessly. Bookstores also need to redecorate their eBook storefront to be more accessible and intuitive to make sure the smart device owners can obtain eBooks at their disposal.
Label: eBook Industry News
comments powered by

Disqus