Posted on 2012-Dec-21
Bangkok Entrepreneurs Meetup
Last Monday evening we met Google Thailand's first Country Manager, Khun Ariya Banomyong, for the second time during the Bangkok Entrepreneur meetup. For those of you who may not be familiar with the italicized title, 'Khun' is equivalent to 'Mr.' or 'Mrs.' in Thai culture but carries a slightly more respectful connotation to address a person. While the socializing part to meet different technology entrepreneurs in Bangkok was quite fun, the themed presentation about the future trend of reading on mobile gadgets was our primary concern.
K. Ariya forecast that smartphones would come in a bigger form factor whereas the tablets will reduce its size to be more user-friendly and affordable. You might want get used to the term 'phablet' which coins (smart)phone and tablet. 5-inch smartphones will probably become a common household product next year. Why do we bring up the Google Thailand's presentation for you today?
Rapid Rise in Smartphone and Tablet Usage in Thailand
I would like to divert your attention from all things eBook to discuss the soaring availability of smartphones and tablets in Thailand. Although consumers do buy a dedicated device for their reading elsewhere, that phenomenon has not happened yet in the Land of Smiles where the internet penetration rate is 30% out of 69 million Thai population. How does that translate to your advantage? Roughly speaking, an estimated number of 20,700,000 Thais have access to internet and they have spent extensive hours viewing online media. Media consumption behavior of online users shows that they are likely to spend 16.6 hours per week online, 10.9 hours watching broadcast TV, and 3.1 hours reading magazines.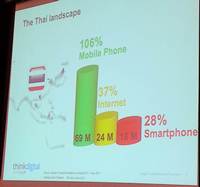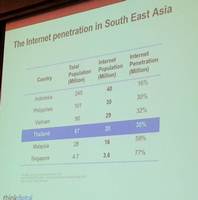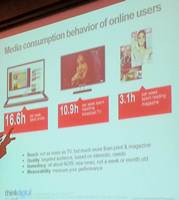 Source: Slides from Google Country Manager Thailand - American Chamber of Commerce
Shopping for a Kindle in Thailand
Your initial impression might be to wonder what is happening to eBook reading in Thailand. On the public buses and fast-speed commuters, social media takes over the passengers' spare time. Updating statuses on Facebook, sharing photos via Instagram, and trading stickers on Line seem like a common task for every smartphone user. The connectivity method on smartphones and tablets seems to have constantly outgrown the desktop counterpart. Obviously, the future trend of mobile users will promote online media business.
Although watching videos and sharing photos still remain the top reason why Thai internet users go online, a tiny booth mushrooming in one of the Thailand's leading malls, Central Department Store, sends a positive signal about the reading habit. Without the proper Kindle store in Thailand, the tiny space reserved for Kindles garner attraction from passers-by. Kindle Keyboard 3G and Kindle Paperwhite are on display for curious passers-by to touch and explore the core functions of the eReaders.
I am the frequent visitor to monitor the potential buyer's reaction. Only a few people approached the salesperson every once in a while and played with the Kindles. There was one incident when a couple looked confused while holding the Paperwhite in their hand and I seized the opportunity to briefly tell them how its front-lit screen would please their eyes. Despite the fact that they walked away with reserved grin, Kindle Paperwhite has remained out of stock for several months; only after New Year's will they be in stock according to the salesperson's explanation.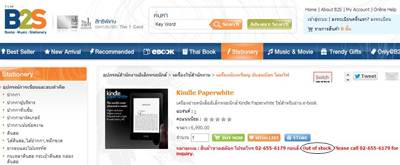 Is These Room for eBooks in Thailand?
Audio-visual social media interaction has become the daily habit that people cannot live without. Tech-savvy users are the prime target in this frequently updated interaction. But when those users flood to the online world, service providers tend to diversify their digital products to cater to a new lifestyle. In the scenario of Thai readers, the internet penetration rate combined with the media consumption behavior and the connectivity method all illustrate the higher demand of media consumption at a fast-growing rate. For eBook, thanks to digital magazines that light up the reading passion in the first place, eBooks promptly populate the catalogue page in many stores. With the heavy support from the giant retailer, B2,S along with the online promotional portal, eBooks will prove to be a strong contender to shine on its own light especially when Thai fonts are properly supported by Kindle. I got a response from an eBook store, Hytexts, stating that they are ready to launch Thai eBook in MOBI format with better display of reflowable content as soon as Kindles support Thai fonts. So far, PDF has been their preferred choice…
Label: eBook Industry News
comments powered by

Disqus