Posted on 2013-Sep-09
All-you-can-read Buffet

With the all-you-can-read monthly charge as reasonable as $9.95/month, are you convinced to try out an unlimited access of 100,000 eBooks to enjoy reading your favorite books? Oyster, the company that raised $3 million from different entities, announced today that they would start giving invitations to users who want to experiment with their service which relies upon a first-come, first- serve basis. To get on the waiting list, sign up for the invitation here.
Oyster Has Made a Comeback
According to TechCrunch, Oyster is back on the radar regardless of the healthy market share divided among online vendors in the eBook business. Initially, Oyster wants to provide iPhone users with a reading subscription app that can help them to discover new books based on recommendations. So far, Oyster's library promises books in several genres from sci-fi to biographies. They first revealed their service in 2012. While one year may seem like a very long time for an app to mature, Oyster was busy persuading big publishers to add their best-selling titles to the catalog. Among the noticeable ones are Harper Collins, Houghton Mifflin, and Open Road Media, just to name a few.
Monthly eBook Subscription Service
So what can users expect from $9.95 monthly fee? Apparently, they can access its library which has 100,000 books and share among their friends. Even though Amazon has a healthy market share with regards to eBooks, the company has not come up with a monthly eBook subscription service yet. It remains to be seen how Oyster will succeed in formulating the virtual library. Its subscription model is compared to Netflix and Spotify that charge users to read their favorite books on a monthly basis. Like the mentioned subscription service providers, it seems Oyster's recommendation engines can get smarter especially when more and more users use their service and thus generate the statistics of what they like and which book they will recommend to their friends. The more they read and share the reading list, the better the engine becomes to make reading suggestions for the users.
Significant Collaboration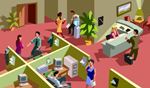 Since Oyster has announced the collaboration with big-name publishers, we will have to wait and see the entire list of publishers and authors they currently work with. Additionally, it is still not clear at this stage whether independent authors will be included and how the publishers and authors will be compensated. Perhaps, they might be paid each time the book is selected (like Spotify) or users have to pay for the upfront fee to access the content (like Netflix).
Real Statistics

However interesting the platform might be, Jeremy Greenfield refers to a report from Pew Research Center that 75% of younger Americans have read at least one book in the past year compared with 64% of adults aged 30 and older. Furthermore, 25% of Americans aged 16-29 were more likely to read an eBook in 2012 as opposed to 19% in 2011. In order to make the monthly investment worthwhile, Oyster needs to attract the type of voracious readers who actually spend more money on the eBooks they buy. Unless they are passionate readers willing to pay $6 and more per eBook on a regular basis, paying the monthly fee may not be an ideal choice for everyone. Given the circumstance that most eBooks are priced lower than $6 based on the best sellers on Kindle Top 100 Paid chart, only three out of 20 titles are priced at $11.76, $7.99, $7.78. Bella Andre's novels prices range from $1.99 to $4.99, and they were the majority of the best sellers at the time of writing. Perhaps, being tied to a monthly subscription does not translate well for readers who are concerned about higher priced eBooks.
Content is Key
Due to the limited offer to iPhone owners only (iPad app will be released later this fall), the initial phase can be underutilized by the mass audience when Android and other smartphone OS users are excluded at least for now. Still, Oyster has proved itself to a certain extent that their subscription model works and several publishers are all ears. Once their platform is up and running, it will be even more interesting to learn how big their user's database will be and how book discovery websites will react towards their penetration rate. While it is interesting to see new service provider joining the eBook market, content is one significant aspect that will decide whether Oyster's service is worth the investment.
Smashwords is Distributing to Oyster!

For our valued clients of BB eBooks, Smashwords' recent announcement represented its key moment to secure a distribution agreement with Oyster. Wait! If you think this news is sent from heaven, heed fellow author's advice and study carefully about how this change will affect you. Apparently, Oyster is not the first pioneer in the business when it comes to offering eBooks for a small fee, Amazon offers similarly alluring business model that goes by the name of Kindle Owners Lending Library which you can access through KDP Select.
Having informed about this three week in advance, Mark Coker, Smashwords CEO, reassured authors that they would be pleased with the author-friendly deal. What he means by that is this particular deal with Oyster will be available for all Smashwords authors. If the author opts in the program, all Oyster users will be able to read several books from the same author in one month and, most importantly, the authors will get paid when the users reads more than a sample of the book.
After Mark's announcement went live, the conversation that followed was thought-provoking and informative for all parties involved. While the first commenter (cdreimer) echoed the sentiment that Amazon's KDP Select resulted in fewer sales numbers 'for no reason last year' and the Smashwords ones grew, the second voice (Darren G. Burton) introduced a skeptical series of questions how authors could afford to lose their low profit margin. BFuniv reemphasized the iTunes' ripple effect towards the music industry as he spoke on behalf of authors to adjust themselves to the business model Oyster is currently offering.
Doubts flourished when information was inadequate. Mark responded to Darren that he could flexibly opt out the program if he would not be interested. "There's been an explosion of indie eBooks, and authors are learning to become much more professional with all respects of writing, packaging and marketing. The level of competition in the sub $4.00 price points has increased," Mark tried to explain at best. His argument was not resolving Darren's doubt when the information about this deal had not been disclosed due to Oyster's request. Phoenix James seemed to side with Darren to confirm how low the author's income had become and the subscription model could further worsen the money they deserved.
Visibility is another issue that authors struggle to agree with one another. If unlimited visibility lessens an author's income at the cost of unlimited exposure, how can authors earn enough money to pay their bills? If their sales continue to drop, how can that benefit anyone? Kyle W. Bell argued and stressed his point how Netflix provided greater choice for consumers and wider distribution for producers. While the authors' per-unit revenue structure may change, he suggested that authors stand a chance to "cast a much wider net." Mary Rosenblum of The Writers Interface agreed to the idea of exposing authors' books to "people who can become loyal fans and…will spread the word via their social media connections' about the books.
To each and everyone's opinion, their points are well taken. In three weeks' time, we will begin to see how the distribution will play out when authors will decide whether they want their books in or out the program. Sales wise, it seems like everyone is entitled to their own individual tactics to tweak their sales strategy to succeed in this highly challenging and competitive market. Putting the differences aside, most of the authors require that Mark disclose the full information about the deal before making their decision. Whatever changes may come, BB eBooks stands firm with our customers to design the highest quality eBook for your online vendors of your choice. If you are interested to distribute your book to Smashwords, we will be more than happy to assist you in designing the professional eBook for your continued success.
Label: Self-Publishing
comments powered by

Disqus