Posted on 2013-Oct-14
Q&A with Nicholas Sparks

I came across this article by TeleRead and found the brief conversation so thought-provoking between an aspiring female author, Monica Clark, and Nicholas Sparks. Although it was basically a Q&A, there are several points worth paying attention to. While attending The Write Practice session, Clark spoke for many female authors in the so-called "Chick Lit" genre and got a surprising answer from the best-selling author who tried to avoid being categorized as a Chick Lit author.
No Lit Chick's Connection
If you happen to write in that genre, you may feel as if you were carrying a stigma to be comparatively compared to the male author. According to Clark, she asked him whether he had been described as a chick lit author. Additionally, she would want to know the response to his books if he had published under a female pseudonym. Sparks' first answer eliminated any connection with the genre. Onto the second answer, he seemed to invent a genre-love tragedy-that best defined his style similar to the works of Casablanca, Love Story, and the Bridges of Madison County.
How Sparks' Books Are Perceived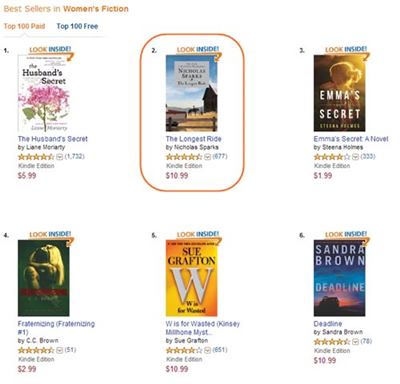 Clark's reaction deeply reveals her disappointment with his answers because they did not represent the accurate facts. In reality, if you look for some of his best-selling books on Amazon and Goodreads, The Longest Ride currently scores exceptionally well at #2 on Amazon's Top 100 Paid in Women's Fiction. The Notebook pops up in Chick Lit subgenre in Women's Fiction on Goodreads.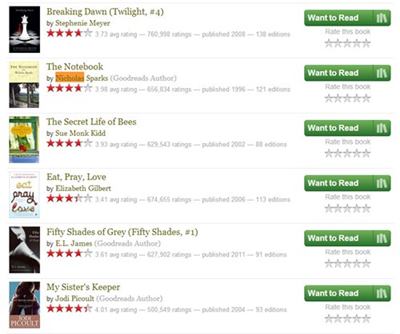 On Goodreads, if you searched Chick Lit, The Notebook would appear alongside with Fifty Shades, Eat, Pray, Love, and The Secret Life of Bees. Also, in the book page, 4 out of 30 reviewers, in the first page of the review results, shelved the book as Chick Lit and without a doubt the majority of them are women. To confirm Clark's speculation about the new genre invention, the search result of "Love Tragedy" on Goodreads did not include any of his books.
Best-Selling Female Authors Speak Out
Then Jodi Picoult and Jennifer Weiner supported Clark's argument on Twitter and the commenters did get together to share their opinions. Based on Clark's blog, perhaps it is "unfortunate" for Sparks that he had to invent a genre just to subdue Clark's speculation. Jim Cangany admits to writing romance stories because that is how he loves them. Nic Tatano announces his HarperCollins background and insists on his priority to write for his audience and be regarded as an 'author'. Apalleschind and Let's Cut the Crap confirm that Sparks obviously writes Chick Lit. Before the heat of the moment takes over the discussion that left one female commenter swearing off buying his book, Anna gives a broad conclusion about books. "A good read is a good read…I think it's a bit too far to ban an author because of someone's interpretation of how he responds to a question," she said.
Where Is the Love?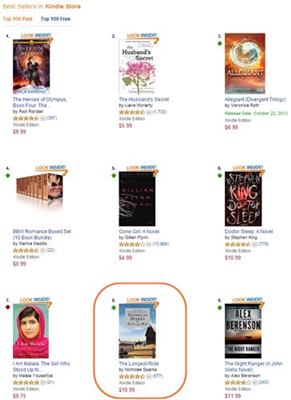 Perhaps, this is a case of mishandling the situation by Sparks whose books unavoidably tend to attract female readers. Although the Chick Lit may not be what he had originally planned for, the search results all demonstrate the consistency how his books are perceived. At the end of the day, readers respond to their books differently but no matter what they say, authors should take note with caution. Back to the TeleRead post, towards the end, Susan Lulgjuraj's comment specifies one of the important aspects that indicates author's success; that is, the popularity. If women's fiction books makes a lot of money, why deny it? Again, looking at Amazon's Top 100 Paid in Kindle Store right now, The Longest Ride sort of becomes the testimonial of how many Women's Fiction fans want to read, in company with Sci-Fi & Fantasy, Romance, Mystery, Thriller & Suspense, and Memoirs.
Label: Marketing
comments powered by

Disqus