Posted on 2015-Mar-23
Old-Fashioned, but Newsletters Work
With Facebook effectively decreasing the reach of fan pages (unless you pay money for to Boost Post), and the difficulty of getting a Book Bub slot today, your newsletter is more important now than ever. Even though social media gurus make email sound a bit… old-fashioned, the most successful authors agree that the newsletter is still a great way to reach readers. Forget the trendy new social media platforms like Tsu, because email has been around for a long time and almost everyone in the world knows how to use it.
Getting Set Up with an Email Marketing Provider
Due to how badly email has been abused since the dawn of the internet, sending out mass email that doesn't land in someone's Spam folder is a technically complex task. Please do not send out the latest news about your big release by BCCing 500 of your subscribers, as this will certainly result in your email account getting flagged as suspicious by the major email clients like Gmail. Additionally, it is best to have a newsletter where people can easily sign up and easily remove themselves from the newsletter (this is required by law in some countries). Unless you're a crack Python programmer, we recommend signing up with a service that can handle sending out mass emails. Many of these services also have online apps that let you create nice HTML templates with images. Here are the three big email marketing providers where you can easily get set up:
MailChimp is great because it is free up to a certain point, so ideal for new authors getting started building up their newsletter subscribers.
Content of Your Newsletter
Many of the big names in email marketing like Copyblogger and Joel Friedlander send out emails that look almost like a regular email from a work colleague. There are no graphics and no fancy designs, just a clear, concise call to action. This is advantageous compared to how other businesses send out newsletters because you will probably read the email—or at least scan it real quick. My Thai bank sends me a newsletter that is just a big image and you can't click on anything. This type of newsletter promptly gets deleted from my inbox along with solicitations on where to collect my $18M of UK lotto winnings. For non-fiction writers and small biz owners, you may want to consider sending out your newsletters that rely entirely on content rather than extensive design.
For fiction authors, it's best to keep things fun. Some nice images and humor can go a long way. The aforementioned email marketing services can help you if you are unfamiliar with the ins and outs of HTML. For both non-fiction and fiction authors, it is important to have some sort of call to action to get the reader to do something. This is an overused cliche in marketing, but you may only have the reader's attention for a few seconds and it's important that you communicate clearly what you are asking them to do.
Getting People to Sign Up for Your Newsletter
Rather than just asking nicely, you can entice people to sign up by offering free swag. Many authors try different things: a chance at a $25 Amazon Gift Card, a free sneak peek at the next book, racy underwear, etc. Offer whatever you think would be best to attract the kind of readers you want.
Strategic calls to action on your website to sign up for your newsletter and the creation of Squeeze Pages helps get people to trust you with their email address. Another good way is to use the front matter and back matter of your eBooks to encourage new newsletter subscribers. Asking people to sign up for your newsletter to win prizes is a good way to get people's attention. You can also use advanced design to really focus on clicking the hyperlink to your newsletter. Here's a screen shot of a few ideas: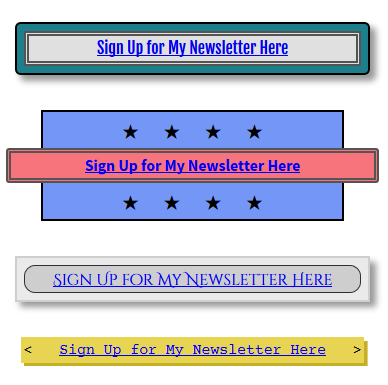 Please contact BB eBooks today for help getting these designs to call people's attention to your newsletter sign up inside your eBooks.
Label: Marketing
comments powered by

Disqus