Posted on 2013-Oct-11
Kobo Branching Out

While attending the Frankfurt Book Fair and constantly reporting all the latest updates of the industry, Mercy Pilkington of Good e-Reader highlights several key points for self-publishers in the conversation with Michael Tamblyn, CEO of Kobo. Last year, we also covered the launch of Writing Life from the technical standpoint. Although Kobo may not be the perfect choice for eBook distribution as compared to Amazon last year, its CEO is generous enough to share certain findings that can be useful for self-publishers. While most statistics focus on the US market, he sees 10% consistent growth of self-publishers in many countries across the globe (e.g. Africa, the Middle East, South Asia, Europe, Brazil, US, and Canada). This very percentage translates well to indicate that self-publishing has penetrated the foreign markets at a steady pace and this method of publication has become universal.
Self-Publishing Night

Apart from providing an essential tool to help self-publishers, through their collaboration with American Booksellers Association (ABA), they are also organizing local self-publishing nights where they are matchmakers to introduce aspiring self-publishers to local bookstores. This way, self-publishers can seek immediate help and develop their knowledge and skills required to understand the changing scenario of publishing. They can also make friends with other authors to discover their fellow's catalogue.
Tablet vs. eReader
More interesting statistics from Tamblyn show the difference between reading eBook on the more popular tablet or the less favorable e-Ink eReader. On the surface, one can begin to see why tablets are ideally optimized for multi-purpose entertainment due to its powerful hardware. But, according to Kobo, the sales of e-Ink devices have blossomed to 25% as opposed to 5% as they initially expected. The tablet market in itself is wider than ever when they have to compete with major contenders and thus their speculation remains whether tablet owners really want to read. Unlike the healthy percentage of eReader owners, 53% of the owners are reported to read every day on their single-purpose device.
Google Play Books Quietly Matures

If Writing Life is not your cup of tea at the moment, perhaps you can find some alternative, Google Play Books Partner, from the search engine behemoth, Google. Albeit its behind-the-scene revamp earlier last month, you might want to give yourself a try what is hidden behind their latest offer through a video tutorial. According to The Digital Reader's comments, the geeky user interface may not be the number one reason you want to write home about; however, its flexibility to help you expand to new markets might be worth checking out. Having added the new markets into their list of Country availability for apps & digital consent, 36 countries are compatible with their Books app which means users can buy and sell books online in their local currency.
New Updates to Manage Sales Data

The newly added features will support multiple users in one account and allow you to easily manage several books at the same time. You can write the email address of your reviewer who you will be granted access to view your entire book. Also, taking a cue card from Google Analytics, you can monitor your sales data in any period of time you want. Below is the sample screenshot of the publisher setup page that allows me to use my company's Gmail account as a starting point.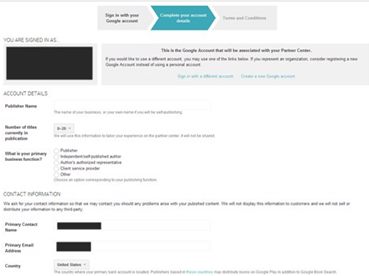 The choice is forever yours to make up your mind which of the online vendors is most effective for your sales. Apart from the obvious choices, it seems new stores and services are upping their game to steal the market share from the major players. While Kobo strenuously puts their effort into inviting self-publishers to utilize their tool, Google modestly adds necessary features to make sure that publishers and authors alike are exposed to new markets including the Asia region. With critical feedback from David Gaughran breaking down the royalties payment in The Digital Reader, independent authors might not earn relatively well comparing to Amazon's 70% plan but what David Haywood Young said is simply reasonable that "all publicity is good."
Label: Self-Publishing
comments powered by

Disqus