Posted on 2014-Apr-23
"Coming together is a beginning; keeping together is progress; working together is success." Henry Ford
The Year of the 99¢ Box

Following Paul's blog titled "Strength in Numbers" yesterday, you can see with your own eyes (especially if you have purchased SEALs of Summer superbundle onto your eReading device) how collaboration can allow authors of the same genre to join forces and deliver the collection of stories that readers cannot resist. Aside from uniting in a teamed effort to win all, the collaborative projects may be worth your consideration as one of the self-publishing experts name 2014 "the year of the 99¢ box." Not only you begin to see why in just a moment, the living proofs in screenshots will also show what collaboration can bring to boost your ranking and how your work will be seen by many either they are your fans or your fellow authors' super fans.
To elaborate further why this year will be such a great opportunity for boxed sets, David Gaughran has recently teamed up with several authors who write in the similar genre as his, historical fiction, and discussed the process of working from start to finish. What a strange coincidence to the timing of our blog! To qualify for this blog, I tend to focus on the sweet spots between $0.99 and $2.99 deals that are brought to my attention. Full disclosure: one of the deals (SEALs of Summer) was professionally made by us, BB eBooks.
Steel Magnolia Press' Box Sets Success
According to David's claim, the box sets phenomenon can be traced back to the time when Phoenix, owner of Steel Magnolia Press, and romance author Jennifer Blake had a trial. For David, his contribution to the box sets started to shine earlier in the hit box set, Dead Dozen, that combined the 12 mysteries/thrillers from 12 different big name authors. Despite being released since February 2014, the eBook's ranking is still far very impressive sailing north of #229 in the overall chart at the time of writing. While the most current collaboration released just a few days is climbing the chart in #3,866 territory, you never know where the wind blows and how it can break into the top position in the best seller charts.
Single Author Box Sets in 2013
While you may not be surprised to have found several box sets by a single author previously, Lindsay Buroker wrote in her blog at the end of last year how box sets were "in." The screenshot provided a perfectly clear scenario that showed four box sets that dominated the chart in Top 100 Paid in holiday romance genre at #2, #3, #4, and #6. With the exception how romance usually benefits from the sweet deals, Lindsay further explains how authors have put their first few books in a series on a heavy discount when those titles are normally priced at $2.99 or $4.99 if sold individually. For authors of other genres, sci-fi author Ed Robertson can also break into Top 200 with his 3-book series. What if you do not have enough books to bundle in a series?
Then Come along Multi-Author Bundle
Fear not, her follow-up blog touched on the "multi-author eBook bundle" that set the trend. If box sets of a single author were doing well, the multi-author bundle could be the successful mantra for authors who share a common genre or theme. Lindsay exemplified how Faery Worlds collection has sold more than 25,000 copies and also entered Top 200. Like any hard work that requires a lot of patience, collaborative authors split their duties between stitching novels together, creating the cover art, and brainstorming ideas for titles. Instead of splitting the royalties and parting terms, they agreed to use the hard-earned money in advertising in order to get their readers hooked up with other books released by them. Working as a team, Anthea Sharp took the money issue seriously as she tracked all the sales whereas the rest of the team focused on promoting the book on each author social media's channels, not to mention that the book had been on the ads. If you are interested in box sets, you should not miss 5 big tips for authors towards the end of the blog.
Phenomenal Sales

Back to the present to David's latest blog entry, apart from sharing his collaborative contribution's progress, Steel Magnolia Press' box sets sales is rather eye-opening with the its owner's revelation. From the first box set sold merely over 2,000 copies, 10 sets have followed suit with 5 more to come in a few months. The reason I find it eye-opening is because their sales range from 6,000 – 80,000 depending on titles. So far, the sales of their 12-author box set as previously mentioned have gone over 284,000 copies generating $120K for authors and the publisher in royalties. Unlike the self-publishing route, the list of collaborated authors will be decided by the publisher who sees the saleable potential in your books. Due to the secret formulae in their commercial tactics, marketing tips will be omitted yet there are several points that correspond with our advice like the professional design of cover and layout of Table of Contents as far as the technicality of the eBook is concerned.
What a Difference an Hour Makes
To illustrate what success has brought, here are the screenshots of all the authors whose collaboration in SEALs of Summers and Dark and Deadly collection has propelled them in Amazon Author Rank in Kindle ebooks (not in sub-genre category). So while you may think up to this point that collaboration is just for sales phenomenon and book's ranking booster, think again as you can stand a chance to rub shoulders with your fellow distinguished bestselling authors.
At #24 in Amazon Author Rank, Cora Seton stands proudly not far behind John Grisham and Gillian Flynn.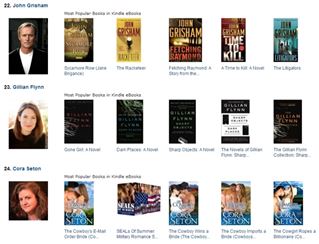 Two hours ago, she stood shoulder to shoulder with Cassandra Clare and Mary Higgins Clark.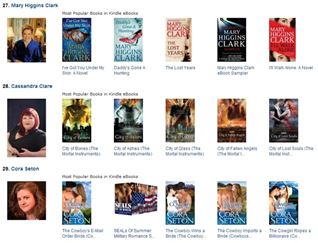 At the same time, other authors also share their equal level of success in the following ranks:
#29 Roxie Rivera (#34 previously)
#43 Delilah Devlin (#54)
#49 Sharon Hamilton (#65)
#65 Elle James (#73)
#68 Jennifer Lowery (#79)
#69 Anne Marsh (#78)
#70 Zoe York (#80)
#71 S.M. Butler (#84)
#73 Kimberley Troutte (#83)
Now that the sales for the eBook have surged, so have the contributing authors' overall ranking. Thus, all can stand a higher chance to promote their entire catalog in addition to their social media endeavor. Updated: SEALs of Summer is currently ranking 23 as it jumped from #32 yesterday.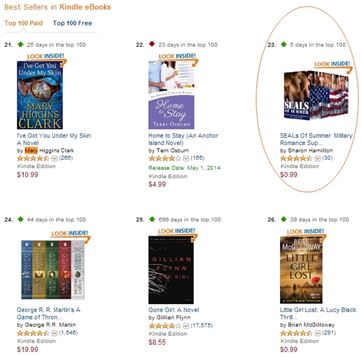 For Dark and Deadly series authors who are in Amazon Author Rank, both the ranks of Jennifer Ashley and Felicity Heaton have also been boosted to #41 and #93 respectively.


Label: Self-Publishing
comments powered by

Disqus