Posted on 2014-Jan-08
A New Book From BB eBooks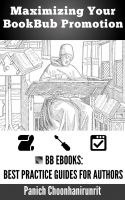 Having monitored the evolving eBook industry closely, one of the greatest challenges that authors are facing is marketing their books. Although promoting books on your website and social media channels is one way to boost discoverability, it depends solely on your own connections which might limit the target audience you want to reach. Maximizing Your BookBub Promotion was written by BB eBooks to inform authors of how BookBub can effectively increase your exposure to readers and promote giveaways/sales to strengthen your brand.
Reader's Best Deals
BookBub is created to bridge the gap between authors and readers. Due to the massive availability online of eBooks, it can be difficult for readers to keep track of the books in their favorite genre. With BookBub's daily email, avid readers who subscribe to BookBub can find best deals being offered right into their inbox every day and be motivated to buy a copy with a few clicks. BookBub's subscription email is sent out daily to their subscribers based on their selected genres to ensure that readers are constantly made aware of the books they want to read. The BookBub facilitates purchasing the book with a concise advertisement and convenient access to buy links.
BookBub's Unstoppable Growth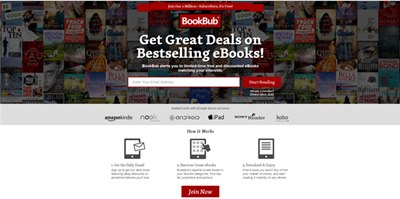 Although BookBub is not a trailblazer, its dynamic growth to attract subscribers was the talk of the town in 2013. The way BookBub sees great value in book promotion sets itself apart from most competitors. Having acquired more than 2 million subscribers in two years, BookBub becomes the sought-after alternative that most authors would like to invest in. That is how we started to collect online information from several sources and gathered data from our clients. This book intends to be informational about sales and marketing opportunities that authors should consider if they would like to invest in a BookBub promotion.
Substance B Authors' Eminent Success
Case studies of successful promotion are provided to give you the clear picture of what authors can do before, during, and after the promotion to strategically boost their sales of the promoted book and other books in your catalog. Thanks to our Substance B authors—Arianne Richmonde, Allison Jewell, and Laramie Briscoe—who share exclusive information how BookBub has significantly boosted their sales of paid books and free downloads, 5-star reviews, and higher traffic on social media are among several advantages that you can add to your portfolio apart from the increased exposure to millions of global fans. Laramie, in particular, allowed us to gain insight into how she achieved #1 in 2 charts—Top 100 Overall Free and Contemporary Romance—with her first book in Heaven Hill series, Meant to Be.
Free Download

Maximizing Your BookBub Promotion is the first book in the Best Practice Guides series from BB eBooks. The book is now available on Amazon, Barnes and Noble, Smashwords, and our Substance B website. You can read the book instantly on our Reader along with other exclusive samples of our authors. Although we price it free on most retailers, Amazon has not price-matched it with the rest yet. Please help us report a lower price on Amazon so it will be free. Once you download the eBook to your eReading device from the retailers, please take a few minutes to leave us a review. To make sure you get all the latest updates from our services at BB eBooks and Substance B, please connect with us on Facebook, Google+, Pinterest, Twitter, YouTube.
Label: BB eBooks Company News
comments powered by

Disqus