Posted on 2014-Jun-04
Why Would You Make Your eBook Free?
Working hard on writing, editing, and marketing an eBook just to release it for free may sound somewhat counterintuitive—and perhaps a bad business strategy. However, many successful authors swear by this practice, including romance author Kallypso Masters. She released the prequel and first book in the Rescue Me Saga free to entice readers to buy the later books in the series. Based on her sales ranking, making the first books in her series free has been a tremendous success. Another benefit of free eBooks is the ability to use them as a form of content marketing for small businesses. BB eBooks uses free eBooks as one of the cornerstones of our marketing strategy.
KDP Select is so 2012, Go Permafree instead
It seems that none of the cool kids use KDP Select anymore. It had some big promotional opportunities when it launched in late 2011, but it has kind of gone downhill—despite Amazon still pushing it. Additionally, with KDP Select you only get to pick 5 days every 3 months where you book is free as Indies Unlimited points out. The logistics of this can prove troublesome if you are trying to run a BookBub promotion when your book is free and BookBub decides to surprise you with the date when they send out a blast email featuring your book. Additionally, KDP Select has been criticized (rightly) because it requires exclusivity at Amazon and doesn't allow you to publish your eBook anywhere else—including your own website. A better solution is to make your book permanently free or "permafree."
The Mechanics of Making an eBook Free at Amazon
Unfortunately, you cannot publish your eBook and set the price to "free" at Amazon. The minimum Amazon allows you to price your eBook is $0.99. The way Amazon makes an eBook free on the Kindle store is by using its secret algorithms to find a lower price elsewhere in the eBook marketplace. So you run into a chicken or the egg conundrum where you have to publish your book elsewhere for free in order to be free at Amazon.
There are a few vendors and aggregators that allow you to price your book for free. These include:
Smashwords (also aggregates the free eBook to Nook, iTunes, and Kobo)
Draft2Digital (also aggregates the free eBook to Nook, iTunes, and Kobo)
When you publish your eBook at these sites, you should set your eBook to free. After you publish it free there, you can publish your eBook at Amazon and price it at $0.99. Do not enroll in KDP Select when given the option on your KDP dashboard for the particularly eBook you are trying to make permafree.
Once your $0.99 Amazon product page is up, we recommend enlisting your friends and fans to go to the page for your eBook and reporting to Amazon a lower price. The hyperlink for this is on the eBook's product page at the bottom of the Product Details section and above the Reviews. Below is an example: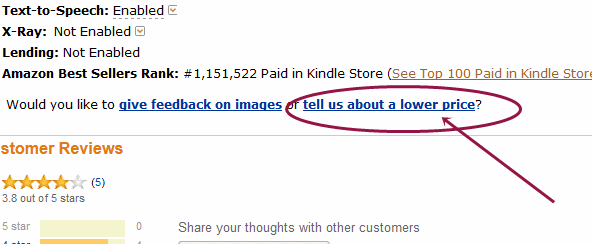 Once you click on "tell us about a lower price", the user can report the site and the price where your eBook is free. Eventually, and this can take days or even weeks, Amazon will discount the price of your eBook to free with their secret algorithm. Supposedly, Amazon can make the book not free whenever they choose, but this seems to be an exception rather than a commonplace occurrence.
The Secret is with Google Play
We have noticed that sometimes publishing an eBook through Smashwords and Draft2Digital may not get Amazon's algorithm to properly discount the eBook to free. However, with Google Play, the permafree is practically guaranteed to work. This may have to do with Google giving your eBook a huge SEO bump so that it shows up high in Google's own search engine, and ostensibly the way Amazon's algorithm finds other eBooks on the internet.
Unfortunately, Google Play has an extremely clunky and confusing user interface, along with a totally bizarre file naming convention. It's hard to believe that this is the same Google that created Gmail and Google Maps: two of the best web-based applications in the world. The BB eBooks tutorial on publishing at Google Play will hopefully help you tame this wildebeest of a task. When you publish for free at Google Play, please make sure to publish both at the Google Play store and at Google Books: it is one of the options when you publish through the Google Book Partners Program. Once your eBook is up on Google Play, it should be no time until your book is permafree at Amazon. Good luck!
Label: Self-Publishing
comments powered by

Disqus