Posted on 2013-Nov-11
eBook Integration into Your Life
While the differences in print and digital book will remain open to readers to judge and compare, the high-resolution screen technology for mobile devices has gradually offered a competitive solution for your eyes only to decide which reading medium is best for your enjoyment. With higher-res display on mobile devices in mass production, readers are not stuck with big screens any longer. The higher density being squeezed into mobile devices will allow crisper texts to be displayed, and even tiny alphabets are clear and easy to see as compared to print quality. Now that the screen technology has advanced so rapidly that you can hold a Full HD screen in your palm, running a comparison test between print and digital books will show which one suits your reading preference. If you are a frequent patron of bookstores, the announcement of bookstore closure may have never been easy especially when you take a liking to bookstore visit. Unfortunately, in the climate of business competition, bookstores need to know how to cater to their customers' various needs pragmatically.
Portable HDTV Display in Your Palm

Without a doubt, not only smartphones have become the essential tool to connect you with the rest of the world, but they can also help you to complete the daunting tasks that only your clunky computer could ever have accomplish (e.g. finding information online, editing pictures, creating documents and spreadsheets, etc.) Apart from swiping endlessly on the screen to complete your tasks, you should not overlook the fact that smartphones' screen technology has progressively caught up with the fine quality in prints. Led by the new Kindle Fire HDX 8.9", the pixel density at 339 ppi is boasted to equate to the print standard. Letting alone the WQXGA resolution (2560 X 1600), this clarity can triumphantly outperform the print quality of paper books which is generally known to be around 300 dpi. The screens of the iPad Air and the Nexus 10 also live up to their expectation in the sheer number of ppi to display crisp details of any reading material of your choice. For readers, if you happen to own a smartphone or tablet with a high-resolution screen or plan to buy one in the new future, you will be aware that you are surrounded with smart devices that come equipped with Full HD (1920 X 1080) screen (e.g. HTC One, Samsung Galaxy IV, LG G2, Sony Xperia Z, etc). Given the fact that such clarity has already been on par with the screen resolution of most HDTV's in your living room, you might begin to see why the difference between print and digital is narrower and book reading is easier than ever. To see for yourself what the smartphone's screen is capable of showing, load eBooks directly from our eBook catalog into your preferred device and place a print book next to your screen to read and see how details are displayed. The sooner you start experimenting with eBook reading, the more your reading experience will be taken to a whole new level.
Bookstore Closure

For residents of Toronto, the closure of Chapters bookstore in a few months can be shocking for a lot of readers who have grown attached to the bookstore for so long. Long before its establishment, the building was constructed in 1927 as a theater and reopened as a bookstore. Although the closure is partly due to their operational loss and higher rent, the sentimental value the bookstore has created will be sorely missed by many booklovers as they voice their mind louder and clearer. For instance, one user says that the store was "a genuine meeting place for people of all kinds." One customer recounts her impression of the bookstore how the staff recognized her name and the place was "a gathering place for new moms with kids." Shoppers Drug Mart will be located in the old building as Indigo-Chapters' parent company-moves on to find a new location in the area.
Pragmatic Opportunity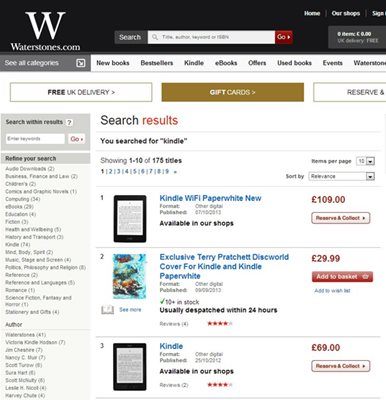 Following the negative response from independent bookstores that refuse Amazon's access to their shelf, Digital Book World proposes a contradictory outlook into how the partnership program can lead to a better business deal for both parties. Although the objection may seem as an outright refusal, one bookstore that has never faltered its business relationship with Amazon still continues to sell Kindle devices in their store. Disappointed with the prior relationship with Sony, Waterstones chooses to partner with Amazon prior to the launch of the Amazon Source program. Although selling Kindle devices may sound restrictive, in fact, Waterstones also puts localized Kindle accessories on display that can never be found even on Amazon.com. Exclusive New York Times and Terry Pratchett Discworld covers are just two examples of how the store can diversify their catalog and meet their customers' needs. There are four 4-star reviews for Terry Pratchett's cover so far; once you click the link to view the cover, the suggestion at the bottom page automatically shows Pratchett's books. Perhaps, that is how indie bookstore earns their profit by selling books.
Harmonious Existence
As long as numbers do not lie, the screen technology of mobile devices can provide the same level of clarity that print has offered to readers. With the flick of your finger gesture, you can browse thousands of eBooks in a glance and choose the favorite to read in its glorious detail. Regardless of the negative response against Amazon Source, Waterstones knows it best when it comes to distributing the commercial products that consumers want. On the website's storefront, the harmonious existence between physical books and Kindle devices and specially designed accessories suggests what other bookstores should consider. No matter how independent bookstores react to the program, chances are eBook readers need to find an outlet to buy either digital copies of their favorite titles or a capable device to read them. Selling those in brick and mortar shop can convert Amazon customers to check out the bookstore's offerings.
Label: eBook Industry News
comments powered by

Disqus