Posted on 2014-Mar-14
2013 Book Promotion Phenomenon
In the midst of several bargain websites trying to compete on delivering enticing stories into readers' inbox, household promoters like BookBub or eReader News Today (ENT) must have crossed your mind at some point. Late last year, we released an eBook how BookBub took book promotion to a whole new level having created a massive fan base that resonated with authors. For a considerable price, these websites promote the bargain price or free promotion of your book that attracts readers. At the same time, advertising on those sites will facilitate authors in providing the virtual showroom, in addition to your established retailing channels, in order to boost both sales and ranking.
Free Promotion… for Now

Despite the praiseworthy results authors might get from BookBub and/or ENT, several authors might not feel the love they deserve due to the limited book listing plus the money they have to spend. Here comes eBookSoda, the new eBook promotion website, that promotes your book for free. If you have had gazillion of questions why the book offers their service for free, this Kboards forum will clarify everything you need to know. The forum user that goes by the screen name "Sha" posted the soft launch of her service in October last year. Writing is the center of authors' meeting place, and it is no wonder a lot of speculation questioned the effectiveness of the newly created website while existing service providers are doing so well.
The Evolution from Day One
Having devoted her time to answering every single query, Sha makes sure no questions would get left behind and no authors leaving the forum room would feel doubtful. While several authors were willing to unconditionally join and see the result, with so many competitors out there, many wondered how eBookSoda could differentiate itself from the rest and whether free was worth their time to be a part of platform-building initiative. The first question that popped up in the comment thread was the number of subscribers the site had had. Since it was their "day one," Sha could not reveal the actual number but promised to build a solid list. However, while responding to Christa Wick's question, Sha made one significant announcement that Erotica would be included in their listings as well as novellas.
Book Prices and Requirements

By catering to showcasing genres that have been neglected by other websites, it does not mean eBookSoda requires nothing from authors. Their selection criteria still rules that only high-quality books that have garnered enough reviews and comply with the length and price that are appropriate to their target audience will be accepted. Subjective as it may sound, you can look up the current eBooksoda requirements here. Following the healthy debate and discussion, one user, Caddy, raised concern over the book price that was limited to $3.99 as the low price point might again encourage readers to expect their favorite to be less than $4. Based on the current requirements, Caddy must have her wish fulfilled now that $4.99 becomes the maximum book price that eBookSoda accepts.
Made in UK
In addition to the benefits authors might find useful for their book promotion strategy, one great advantage for authors residing in U.K. is the site is created by Brits for Brits, albeit without the Union Jack flag waving along with soda bubbles. What does that mean? U.K. authors can post Amazon UK links alongside with their .com links and other retailer ones to make sure British readers will not have to manually locate the buy links.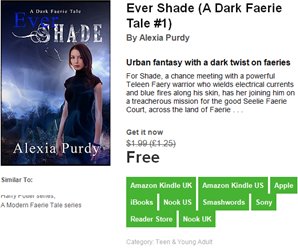 New Releases Promotion

Nonetheless, several authors were still skeptical of how another "BookBub-type" site would make any difference when there was no way to know whether your book would be featured or not. "Suck it and see" was probably the quickest response Chris Northern shared among forum users. Willo further elaborated how the promotion of New Releases, Novellas, and Erotica was "innovating" and they could offer greater visibility.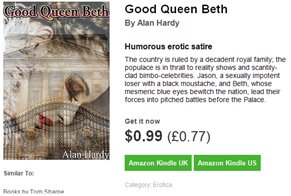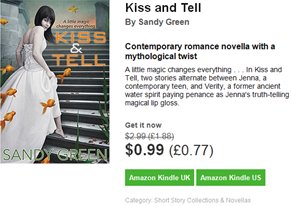 For readers, they must have more reading options. Sarah Stimson helped clarify the myth about ratings as eBookSoda responded to her question that the reviews can be combined between Amazon.com and co.uk.
Uphill Climb

With regards to the number of subscribers that had been muted since day one, eBookSoda's information in January this year confirmed that there were over a thousand subscribers and counting now that the site was running. In the discussion that followed, authors who subscribed to the service were eager to share their submission response and witness the sales boost. It seems the first promotion email was dispatched on Jan 14 and again the forum users were in good spirits to report their featured books. While the results may vary depending on your genre and the number of subscribed signing up to read your particular genre, valeriec80, a Thriller author watched a book in the genre she subscribed to jump from #75,000 to #50,000 while another book had completely remained unchanged at #5,000. MirandaPChareles reported her own stagnation for her perma-free book.
Despite its bubbly and fizzling trademark, the sales report was not earth-shattering according to several authors. Typically, 0 or 1 sales were the impression that many got except "scottmarlowe" who revealed "a handful of sales" but did not specify the number; his strategy was having the price slashed to $0.99. The last entry of the forum posted a month ago discussed the launch of the blog section that discussed various topics ranging from sharing an eye-popping infographic about eBook statistics to the creative writing process.
Pros and Cons
To summarize the pros and cons of eBookSoda, the free admission is definitely the risk-free deal-breaker that might be worth trying. Branching out to Erotica can be seen as one way to meet authors' demand since the founder is an author herself. Factoring in the new release and the number of reviews requirement, most authors should not have any difficulty having their book featured on eBookSoda that shows all the buy links (including US and UK). Perhaps, it is easy enough for authors to experiment with the service during the free promotion. Although, the unproven sales record, the lack of support from established authors, and limited number of subscribers are indeed challenges that eBookSoda to overcome. Comparing with BookBub in terms of prices and the subscribers, these pieces of critical information are publicly available for authors to make an informed decision of how big their fan base will increase based on their particular genre if they are to promote their book.
BookBub's and eBookSoda's Genres Comparison
For readers, the more reading options are available, the higher incentive they are likely to discover new talents and fall in love with reading. Based on the comparison between the BookBub and eBookSoda promotion newsletter I received on March 12, there is no similarity of book titles found in both catalogs although I subscribed to 6 genres on both platforms (i.e. Contemporary Romance, Fantasy, Teen & YA, Mysteries, and Historical Romance). While eBookSoda features 17 eBooks, BookBub promotes 14 different titles. Generally speaking, in one day readers are pampered with 31 eBooks to be obsessed with in 19 different genres (e.g. Mysteries, Thrillers, Fantasy, Erotica, Short Stories and Collections & Novellas) which include sub-genres (e.g. Paranormal Romance, Erotic Suspense, New Adult & College Romance, etc.) According to Sha who posted the number of subscribers on February 19, eBookSoda boasted of 6,000 subscribers.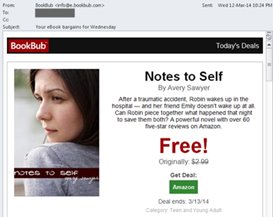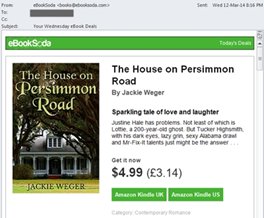 To sign up to their newsletter and submit your book, hit this link and you are welcome to share your success stories with BookBub down below in the comments. Have a nice weekend and happy reading and writing as always.
Label: Marketing
comments powered by

Disqus