Posted on 2014-Apr-23
If 2013 was the year of BookBub, 2014 might just be the year of the eBook bundle. Groups of authors, particularly romance/erotica authors who tend to lead the pack in terms of innovation/marketing, are banding together to release novels as one standalone. And it's not just two or three authors… if you look at the bestsellers on Kindle we're talking about 8, 10, and even 12 novels sold together in one big package. Call these eBooks what you like (bundles, superbundles, box sets, anthologies, etc.), but whatever the proper term for them is they are selling well.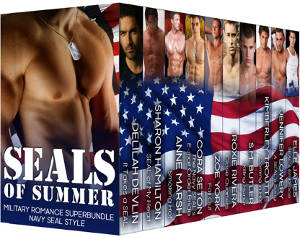 While anthologies have been around for quite some time, the concept of packaging several novels into one big book was not really feasible for print books due to physical constraints (the book would be the size of a 1950s-era toaster), since some of the larger bundles can have up to 1,000,000 words. However, eBooks do not have the same size considerations. The best bundles focus on a common theme (Paranormal Romance, big city crime, etc.) rather than being a random hodgepodge of novels. We would like to offer up our congratulations to the SOS Ladies for their release of SEALs of Summer for hitting #32 on Amazon at time of this writing. It is a collection of 10 big-name authors who focused on Military Romance as a theme—a hot seller at the moment. We were humbled they chose us as their formatters.
Benefits and Strategy
If you are just starting out and get invited to be part of a bundle with some big-name authors, we recommend jumping at the chance. You will be exposed to their promotional channels and be able to be discovered by their readers. Often bundles are released at a very low price (e.g. $0.99) and are only available for a limited time. This is a smart strategy to get the bundle high on Amazon's ranking - allowing the algorithms to expose readers to other books by the authors.
Despite 3-d covers being used by cheesy affiliate marketing scams in the latter part of the last decade, they do quite well with the bundles. These are attractive to readers since they know they will be getting a huge number of books for a low price. Do not overlook adding backmatter to every one of the novels in the bundle that includes generous use of hyperlinks.
A suggested structure for a bundle might be as follows:
Bundle Cover
Title Page for bundle
Copyright Page (that includes all the authors)
Short Table of Contents (links to the start of each book)
Book #1 Cover
Book #1 Title Page
Book #1 Content
Book #1 Back Matter (don't forget to include About the Author, Buy Links, Social Media hyperlinks, etc.)
Book #2 Cover
(repeat)…
Extended Table of Contents at the end (links to all chapters and sections of each book to facilitate accessibility)
Pitfalls
One problem with bundles is the massive size of the eBook itself may cut significantly into the royalties due to Amazon's dreaded digital delivery fee ($0.15/MB). Please note this only applies if your book is priced $2.99–$9.99 inclusive. A typical full novel is about 500kb in size, so if you have 10 novels, this can almost add up to a dollar.
Another issue is that many authors have different ways of structuring their novels, and when combining them it in a bundle will create a non-uniform look from book to book. The best way is to have one of the authors take charge as a project manager and develop a plan for all authors. Also, make sure ahead of time how the profits will be divvied up. There is no need to make enemies with your fellow author collaborators.
Label: Self-Publishing
comments powered by

Disqus