Posted on 2014-Mar-28
Silent Surprise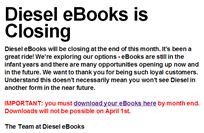 The closure of Diesel eBook Store in a few days might come as a silent surprise to those who are regular customers of other eBook retailers. With little notice to their customers about the closure in advance, many are in panic mode trying to cope with backing up their eBook copies. Apparently, problems with downloading ensue.
Sony Reader Store Closure
Early last month, Sony Reader Store could not escape fate and they had to close their digital book business. Still, the store managed to inform their readers of the migration to Kobo and the best practice how they can easily transfer their account to Kobo. Unfortunately, it is unlikely that Diesel customers should expect similar solutions as they are struggling to learn the unexpected announcement officiated on the website.
eBook Downloading Issue
Complaints about being unable to download some of the purchased eBooks voice disappointment of how Diesel has managed the customer experience so far. Most importantly, a lot of people did not see it coming and some even hypothesized whether the closure was part of an April fool's joke.
Smashwords Remains Silent
On Smashwords though, it seems everything is perfectly normal as usual with no special announcement about Diesel on its blog. In fact, authors can still access their Premium Catalog and opt in/out distributing to Diesel without being given any warning.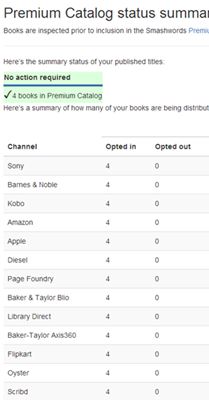 Smashwords' official press release issued since 2010 provided the most extensive information about its collaboration with Diesel. After that, very little information can be found regarding how their deal has reported any progress for authors. Thanks to the link provided on Smashwords' website to Diesel's blog, finally we get to learn that the last blog entry was posted in August 2013.
Only the Strongest Will Survive
For authors, Diesel's closure memo seems to hint there might be a new transformation in the near future and it is sad to see it go. In practice, only the strongest will survive rule seems to resonate with authors at the end of the day now that Sony Reader has almost entirely gone and Diesel following the same path. One author that has the screen name "mixus" did highlight the advantage of diversification that has shaped the eBook market landscape and how it will be transitioned to in 5 years. "The closure of Sony and now Diesel is Natural Selection in action, along the evolutionary process of eBooks," he comments. Unfortunately, as Barnes & Noble goes downhill, Amazon seems to be the undisputed market leader. Monopolies are never a good thing.
If you are one of their customers who have been hit hard by this sudden announcement, please check out the website now and download the copy before Apr 1.
Label: eBook Industry News
comments powered by

Disqus