Posted on 2013-Sep-20
The Author-favorite Tool
Almost a month ago, we dedicated our blogging space to cover BookBub, one of the hottest book promotion tools in 2013 to boost sales for indie authors. With acknowledgements sealed and delivered by successful self-publishers like Ryan Casey, Lindsay Buroker, Michael Hicks, they shared all the positive feedback how their sales significantly spiked during the promotion period. Even 'The King' himself could not resist the charm of BookBub to promote his chilling 'The Shining'.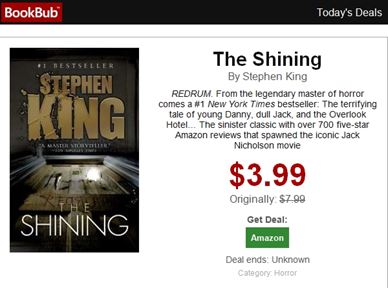 Apart from the impressive sales figures, the number of downloads was something to write home about. Using the right combination with Amazon programs and other book promotion tools, topping the best-selling charts is not unreachable any more.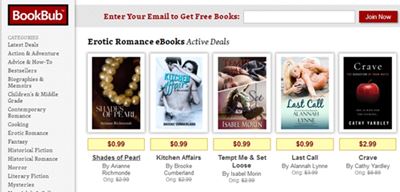 Highest Earner
The reason why we would like to bring BookBub back to your attention again is its effectiveness to boost the eBook sales for our Substance B authors. In the spotlight, our highest earner is Arianne Richmonde, author of The Pearl Trilogy. After running a BookBub ad for 'Shades of Pearl', she topped two best-sellers charts: Inspirational Romance and Romantic Comedy.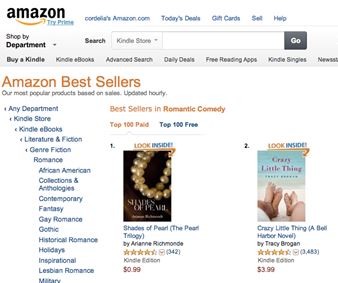 Screenshot taken on Sep 18 at 9.26 AM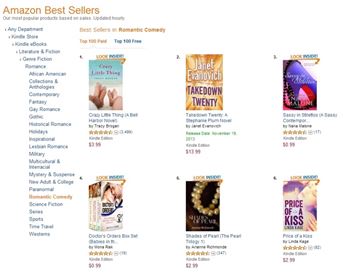 Screenshot taken on Sep 20 at 4.32 PM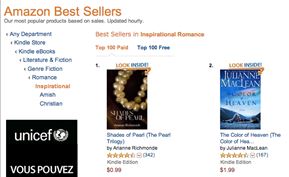 Screenshot taken on Sep 18 at 9.26 AM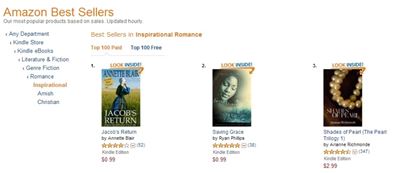 Screenshot taken on Sep 20 at 4.32 PM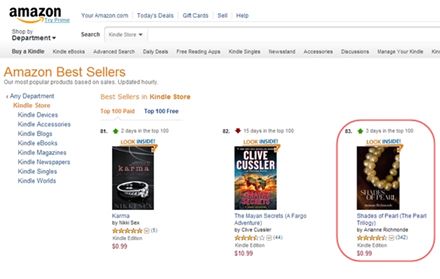 *In the overall chart, Arianne's highest position was #77 on Sep 18th, but we could only capture #83 yesterday.
Hot Stuff
The second case study is Skye Turner, author of 'Alluring Turmoil (Bayou Stix 1)'. The book's Best Sellers rank continues to rise. The author herself blogged about the phenomenon how she was blown away by the success she was mentioned in USA Today. What an excellent job for a debut novel. While she didn't do a BookBub ad, she did utilize an interesting promotion strategy that we all can learn from.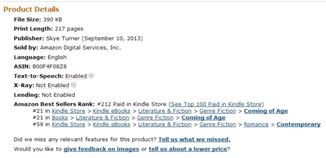 Screenshot taken on Sep 19 at 9.26 AM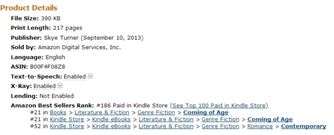 Screenshot taken on Sep 20 at 4.45 PM
Utopia
A debut novel in the Top 500 on Kindle chart is rare, and Skye did the hard work behind the scenes to promote her book. Her website was her sanctuary to reveal crucial information about the book in prior to its release on Kindle store. On her blog, she posted photo teasers with quotes from the book, free samples of the first chapter prior to the book's release, reviews from ARC's and Beta readers, plus a cover reveal with many blogs and fellow authors. She also created a "Cast" folder to show who she would cast as her characters and shared the book's playlist. These are the practical tidbits that she kept doing to effectively promote her book. Lucky for her, she has "very passionate fans" to share her celebratory moment and enthusiasm with. Towards the end of the blog entry, she promises her fan to release Book 2 and more.
Optimizing Your Giveaway Goal
Moving onto our last author, Allison Jewell, she also used BookBub to gain traction of approximately 31,000 downloads. Allison admitted that BookBub did its job well to boost her giveaways compared to her usual methods, using her own social media channels for book promotion. Although we mentioned about her second book in our earlier post regarding using Series Manager on Smashwords, it is apparent that 'Rise and Shine' (the second in the series) greatly benefited from the spike in downloads the first book in the series has garnered in Kindle. 'Rise and Shine' is currently ranked as #1,601 in Kindle overall chart whereas her first book-'Shine On'- reached #4 in the Kindle Free store following the BookBub ad.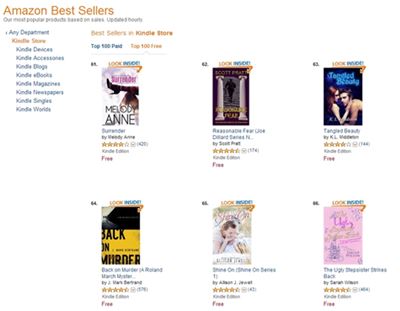 Up until now, you may have seen how BookBub can potentially mobilize their subscribers to respond to their favorite books. The number of downloads and sales are living proof why several best-selling authors have carefully chosen it. Although it may be impossible to pinpoint one solution to craft the Midas touch, knowing the right channel to communicate directly and foster your relationship with very passionate readers and fans is the key to sustaining your career's achievement.
At the same time, it is equally important for authors to use every promotional outlet to tell the world what you have accomplished. What Skye pointed out early in her blog might seem like basic information that everyone has already known but her positive thinking encourages her to keep writing for herself and those who appreciate her work.
"I don't have amazing reviews from everyone, but I'm ok with that. Some people hate my book, and that's ok. I don't write for those people. I write for myself and for the people who do love my work and my characters. I don't love every book I read either, but one thing I do make sure to do is be kind in my criticism. And if I can't leave a decent review, I try not to leave one at all, but that's just me and maybe it's just the way I am," –Skye Turner.
Label: Marketing
comments powered by

Disqus