Posted on 2013-Oct-19
First Impressions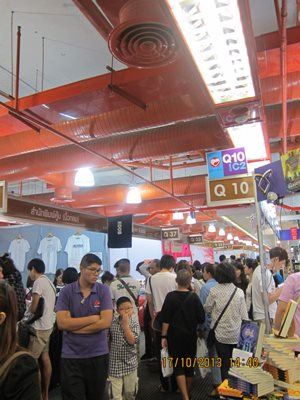 With modest expectation to see the latest book event spearhead the reading habita of Thai readers, I came to the event primarily to take photos and hoped to see discounted books being mushroomed in every corner.
Deeper Engagement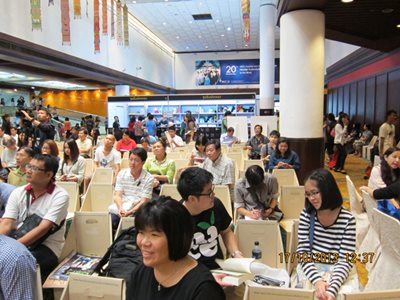 Yesterday's participation proved me wrong about many several things. Instead of patrolling randomly around the hallway full of readers, I changed my strategy to absorb the intricate relationship between readers and authors by sitting in to participate in the activities that were held on the stage. I learned to do my research about which stage activities I would particularly need to spend quality time with. Book launch parties seemed to be the ideal events to observe the relationship between authors and readers. This time I also took one of our production staff to expose him to literary discussion rather than guiding him through discounted books. All of the photos are his excellent work to capture the best moments of the Book Expo in motion. We will upload all the photos and videos on our Facebook page later. Instead of taking random photos of the event and capturing how many people were coming to buy discounted books, I sat through the course of several hours attending the book launches, listened to the discussion hosted by literary award winners, and anticipated a big event that would perhaps revolutionize the next chapter of Thai literature.
Book Launch of Translated Work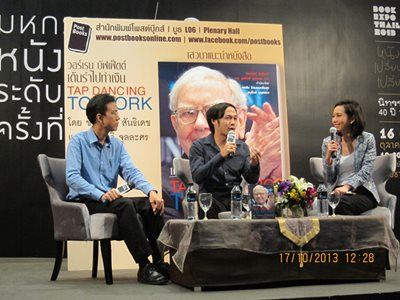 Starting with the Thai translation of Warren Buffet's Tap Dancing to Work book launch by Post Books publisher, although the book title alone can probably sell itself without any introduction, the conversation on stage showed the good chemistry between the two translators, Chatchawanan Santidej and Supasak Jullasorn. While the former is a natural storyteller and value investor blogger who used to be crowned a 2008 super fan (Fan Pan Tae) of Romance of the Three Kingdoms, the latter is a VI veteran who has invested in the Thai stock market for more than ten years. Together their unique skills complemented each other very well in presenting Buffet's six decades of writing to the Thai audience.
Supa Devakul Literary Award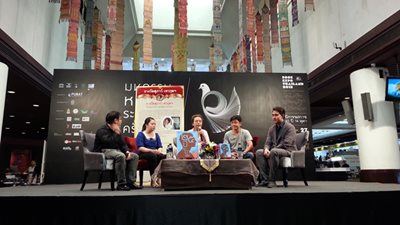 The second stage activity conducted a change of tone when literary fiction awardees took over the venue. Nanmeebooks invited Supa Devakul literary award winners and runners-up to discuss their inspiration behind their short stories. The session was specially hosted by Chamaiporn Sangkrajang, the former Chair of Writer's Association of Thailand who is highly regarded as one of the most influential literary authors and critics in Thailand. So far, she has penned more than 72 works including novels, YA fiction, short stories, non-fiction, and poems. Each awardee had to explain the background behind their short stories. Nottee Sasiwimon, first prize winner, discusses her short story '25 Years Later' of a ghost of her father who died 25 years ago yet crossed time and came to live in modern Thai society. Modernity postulates challenges for an old soul to see how new innovation e.g. skytrain, convenience stores, smartphones, etc. revolutionizes the city dweller's lifestyle and represents obstacles that he therefore has to deal with. The novel itself questions the issue of individuality whether it has led people to be lonelier, more selfish and isolated.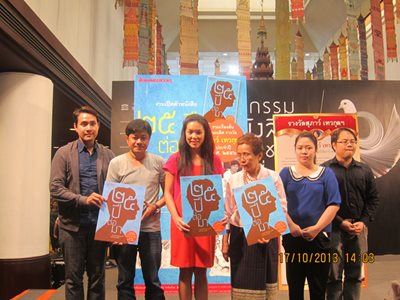 In the center is Kim Jongsatitwattana, Assistant Managing Director of Sales & Marketing at Nanmeebooks.
eBook Release of Panomtien's Phet Phra Uma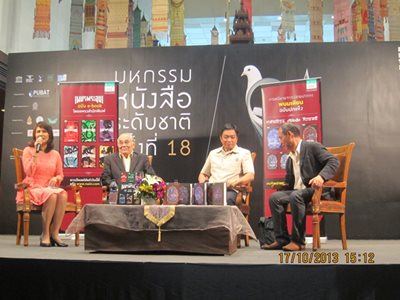 The highlight of the day was the announcement of one of the legendary books in the history of Thai literature being released as an eBook. Prior to the eBook launch, people started to reserve the best seats to see their much-revered author, National Artist Chatchai Visessuwanphum widely known by his pen name "Panomtien," making a public appearance. The reason I personally called his books legendary boiled down to the fact that he has written more than 48 books of his well-known jungle adventure series-Phet Phra Uma (Jewel of Uma Deity). The author spent 25 years, seven months, and two days of his writing career having penned more than 290 episodes to impress many generations of readers. His other works were also featured on the stage in hardcover. Ong-aj Jira-on, Editorial Director of Book Department at Amarin Printing & Publishing, took this opportunity to humbly express his appreciation for the literature that has continually inspired him to a be in the writing profession.
Copyright Concern and Optimistic Consent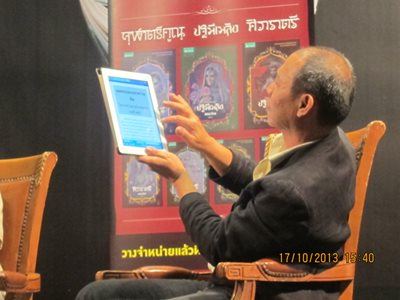 When the presenter asked how the author felt about his book in eBook format, he was optimistic about the future releases of his other print books in digital format. Apart from giving his consent to have his number one book released as an eBook, he also extended his permission to authorize Amarin to work on converting the other books from his creation: Siwa Ratri, Chula Trikhun, and Pathapee Plerng. His only concern with the technology is actually copyright violation that saw his books being illegally scanned and distributed. He urged the Amarin publisher (copyright owner) to take legal action and prevent that from happening. Another panelist on the stage who is a super fan of the series added that he wished to see enhanced content in the eBook (i.e. animated pictures to bring the lively presentation to reading experience).
"I was very delighted to see Phet Phra Uma in eBook, whichever title that may also be released in eBook will widen the world of reading. It's very convenient to read the eBook anywhere (i.e. on the plane, restroom, or bedroom). Most importantly, you can carry it with you because of its light weight…while getting stuck in Bangkok's traffic congestion, this is the best time to read your eBook" Chatchai said, When Ong-aj showed Phet Phra Uma eBook on an iPad.
Naiin's eReading App's User Experience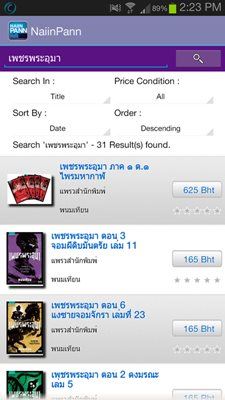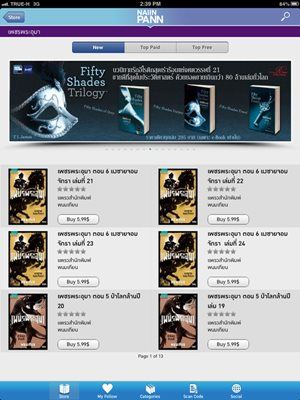 Phet Phra Uma is available throughout Naiin bookstores and smart devices' application for iOS and Android. After I experimented with the eBook at their demonstration area, I noticed a difference between the apps in two operating systems; that is, price currency. While the price is shown in local currency (Baht) in Android, iOS displays US dollars which requires a bit of the math skill to convert it. Each eBook costs $5.99 (165 Baht). Readers can choose to buy the eBook gift card to access the full content. The gift card provides 6 different cards that will activate the eBook.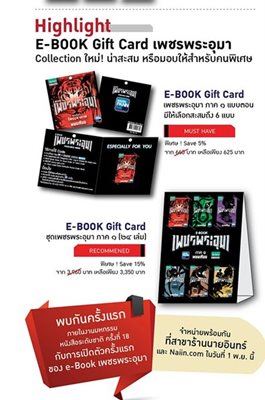 After logging in Naiin eReading app on Android, I had a bit of the problem with loading the eBook sample. The loading time took longer than usual and this page kept appearing over and over. Perhaps, the real problem could be the ADSL connection lag in our area in the evening. Luckily, when I tried loading the sample again later, the eBook popped up on screen nice and smooth. Unlike the eBook in EPUB sold by another online store, Hytexts, Naiin bookstore develops their own app that has the same features of most eReading apps we reviewed but the real killer feature is the flexibility to adjust Thai fonts. Users can change them based on the familiar Thai fonts found on PC: AngsanaUPC, BrowalliaUPC, CordiaUPC, FreesiaUPC, and IrisUPC.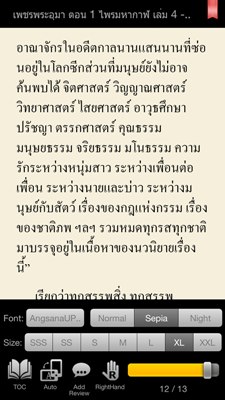 The Thai eBook offered by Hytexts depends on Bluefire app to display the content so the font choice is very limited to the default one. To say which Thai eReading app will be popularly adopted at this stage is too early to predict. Eventually, tech-savvy readers will be the best judge to decide which application or reading ecosystem will work best to display their favorite eBooks.
Book's Signing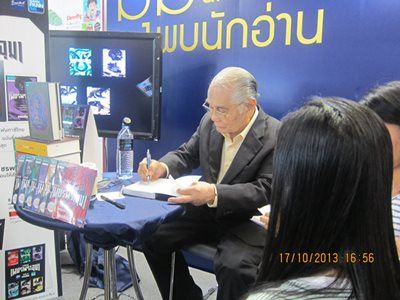 Before we left Book Expo yesterday, I took the advice of the presenter who announced the author's book signing at the bookstore's booth. Even though the signing was not published in the leaflet, I thought it might be a good idea to request an autograph as a rare gift for my family. Our junior staff and I ended up queuing up for 30 minutes to wait patiently for his autograph and admired how other readers did the same. One noticeable difference I saw in my junior staff is his attitude towards literature. Not only he seemed to appreciate literature a little deeper, he said he would definitely come back to shop for books this weekend with his cousins.
New Dawn of eBooks in Thailand
To wrap up the initial impression about this year's Book Expo, attending the stage activities helped clarify my doubts about the current publishing industry in Thailand. Although the eBook technology was somehow seen as a fashion statement and most of the publishers focused on their print books with no eBook sign in sight, the big publishers' effort to push forward classical literature in eBooks gives a positive signal that the digital medium catalog will expand over time and be available to a wider circulation of readers very soon. For the eBook development in Thailand, what Panomtien said will somehow describe the new dawn of eBooks when more genres are added to the catalog. The faster the publisher can fulfill that goal, the sooner they might be able to bridge the demand of readers in different age groups. While Phet Phra Uma might be best known among adults, the eBook release will reinvent the literature to be conveniently accessible for them while young readers, who are familiar with the technology, can be the next-generation ambassadors to explore literature that has never been uncovered in their lifetime.
Label: eBook Industry News
comments powered by

Disqus