Posted on 2014-Apr-11
Day 3
Day 3 of the Book Fair started early in the morning when I and our Production Manager, Aey, decided to observe what the reading club for public school students throughout the country would be like.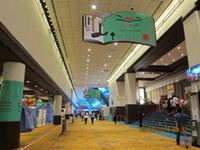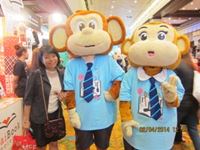 Nanmee Books for Children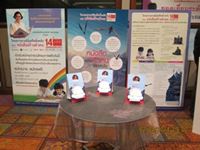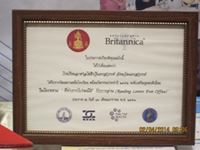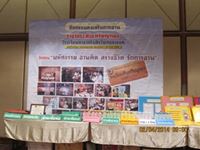 In commemoration of the publisher's 20th anniversary, Dr. Suwadee Chongsatitwattana made a speech to summarize the company's achievement. Nanmeebooks, one of the biggest publishers in Thailand known for their children's books, shared how the Thai-translated Harry Potter had become the huge influence on young adults to read since 2000.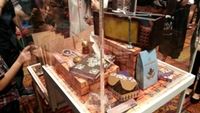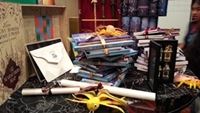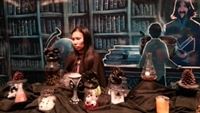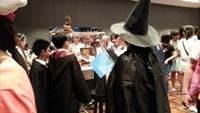 Apart from print books, Nanmeebooks also provides eBook in PDF and EPUB formats. "Waen Kaew" Award Literature Contest is one of the key elements organized by the publishers to help children discover their favorite reading. The winner will receive his/her award from Princess Maha Chakri Sirindhorn who is particularly interested in the area of languages, literature, history, and Thai art.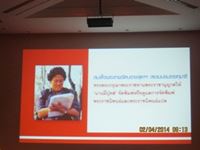 Following the footstep of Princess Sirindhorn's hard work, Nanmeebooks had several projects that aim to upgrade young adults' education by working closely with the government, public sectors, and public schools throughout the country.
The Publisher's Mission Statement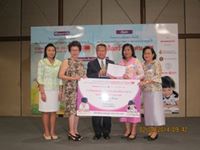 Setting up a reading club can be seen as a testimony as she announced on the stage that Nanmee will upgrade reading to the next level so Thai readers can compete against other nations. She encourages many schools to promote reading and also honor Princess the devout author by allowing the school to share best practices among themselves to better develop their reading promotion strategies. Best practices include setting up different activities in every subject that allows students to research for their assignment, providing games about ASEAN so they can engage in the interaction and learn more about other members through reading, opening Thai encyclopedia and encouraging students to use library of their own volition, and giving them presents sponsored by Nanmeebooks (e.g. bookmarks.)
Children's Book Launch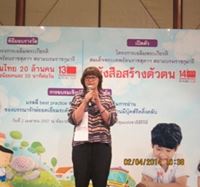 Prior to inviting the schools to share their best practices how they promote reading among their students, Swedish children's book author, Eva Susso, was introduced to the stage to launch her first Thai-translated book titled "Babo Points" which is published by Nanmeebooks. She has published more than 30 books in Sweden: mainly children's literature and YA genres. She draws inspiration to write this book from her childhood memory when she took her baby brother out for a stroll in the forest. Although her mother only gave her permission to take the younger brother out, the author took the liberty to introduce to him all the wild beasts that might vivify her brother's fantasy to meet the elk and boar. Her technique to captivate young audience's attention is using less words but more rhymes and rhythm to make the storytelling flow so they want to hear the same story again and again. More importantly, illustrations are considered one of the major elements in the book to stir their imagination. She believes children know literature much more than adults give them credit for, yet TV seems to pose a real threat to reading as it can steal their quality time. Being a media that only communicates one-way to children, she is concerned how children cannot communicate back unlike reading that requires more concentration.
Reading Promotion Best Practices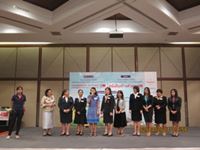 After the speech, school directors and senior representatives who won the awards came up on the stage to share their best practices in promoting reading. At Prakhonchaipittayahom School in Buriram province, teachers organize two activities: Super Fan of Sunthorn Phu and the best products from Buriram to encourage students to discover more reading materials from the famous poet's extensive works and learn to appreciate the value of locally-made products. Tesabarn 2 Wat Senahar School provides English for ASEAN activities hours, English for conversation and translation knowledge base, and book refrigerator magnets. The school also recruits young volunteer librarian to decorate and curate books to the library. The decoration simulates home environment so the students feel at ease while reading. There is also an automated borrowing and lending system to cut down teacher's time to operate the library since they are obligated to produce more documents to meet the curriculum's requirement. For Nongwangbungngam School, apart from promoting reading, the school also helps students to write their activities: Wired Live Broadcast, Reading and Writing, Young Writer from Roi Et. One student won a writing contest and received an award from Princess Soamsawali. Located in natural surroundings, the setting is also a perfect choice to inspire writing poetry as the school had the "Love Reading Pavilion" set up. There was even a Haiku poem contest sponsored by Japan Airlines organized in the school's vicinity.
Knowledge Bases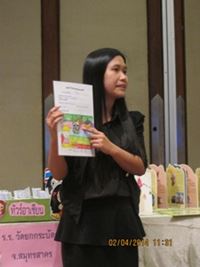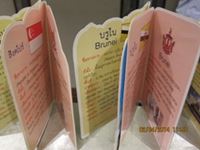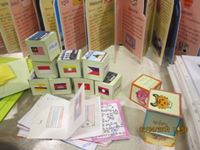 After the break, chairs were grouped according to different bases. We were seated among different school representatives to witness how the award-winning Yokkrabat School from Samutsakorn province used their available resources to facilitate their student's learning to read. First, the librarian teacher demonstrated how she would hand out the My Favorite Book notebook for her students to draw what they learn based on their research in the library. On the table were different learning materials she made herself. For example, making a dice that had all the ASEAN countries' flags and selling the keychain that has the message of "I Love You" in different ASEAN languages to generate income for the library.
Copyright Case Studies of a Thai Publisher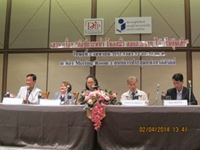 In the afternoon session, Department of Intellectual Property (DIP) organized a seminar to raise the awareness of the copyright violation that drew the crowd in to fill the entire meeting room. There were sensitive issues that many people in the publishing industry have realized. PUBAT's former president and owner of Sathaporn Books, Woraphan Lokitsathaporn, shared his cases how he used the unauthorized fonts on the website and received a warning by fax instantly, took a picture for one of the books at a bakery shop with a logo in the frame, had a contract with an author to have one of his/her works proofread but went to other publishers for print. In the first and second cases, he told the editor to create new content and buy the proper license to prevent any mistakes. In the third lesson, he learnt the hard way how the author picked and chose whichever publisher that could have the work printed the fastest. Woraphan did not realize the release of the author's work until one of his editors told him of its availability on the shelf with other publisher's name on the book. For your reference, DIP released their statement on Thailand's implementation of intellectual property.
"Read, Load, Post, Vote, and Share"
Based on Pathom Indarodom, ARIP's Chief Executive Officer, the Thai publishing industry is being transitioned to being fully digital but now it is still in a hybrid status that sees the combination between physical printing and eBook existence. Not so long ago in the 90s where data was stored in physical mediums like diskettes, it was way more difficult to violate copyright. However, with the advent of online conversation sphere where people can "read, load, post, vote, and share" and the empowerment through smartphones, content is delivered freely and can thus encourage a smart thief to illegally share the protected content. Suchart Thammapitakkul, a law specialist and independent committee member who holds a law degree from Harvard and has worked extensively in several government departments, shared his insight how copyright violation can be prevented as the nature of content must be considered. For your own protection, you can write "For Your Reading Only" or "Cannot Be Forwarded" statement to preserve the confidentiality.
Reading in Thailand Blossoming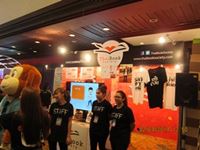 Although the Thai publishing industry is still undergoing the hybrid transition being able to offer readers the fully digital solution, reading does not seem to be a major hurdle as the model of the reading club and their public schools' best practices show how enthusiastic adults are helping young readers to learn and discover their passion. And like Eva Susso said that it takes more concentration to read as opposed to being trained one-way by the TV, more reading materials and activities can become really helpful in determining their future. To take reading to the next level, readers should feel comfortable to write stories, poems, and any creative content to feed their literary appetite. The more they read, the more they become engaged in developing their knowledge and imagination and the better they are confident in expressing ideas to others. Last but not least, the law on copyright requires people to understand what their safe practice is and what the limitations are. Crossing the border may result in damaged reputation and financial losses. However, it is of great importance for people in the industry to get together, share their experience, and learn to prevent mistakes.
Label: eBook Industry News
comments powered by

Disqus