Posted on 2014-Apr-07
Apparently, April is one of the busiest months in Thailand. For most people, Songkran is probably one of the most anticipated festivals that will relieve everyone of stress during the political turmoil that has been going on for several months. But for Bangkokians, apart from jotting down vacation dates on their calendar, booklovers cannot miss one of the biggest literary events in the country; that is, 12th Bangkok International Book Fair. Hosted by The Publishers and Bookseller Association of Thailand (PUBAT), the event took place at Queen Sirikit National Convention Center from Mar 28 to Apr 7 promising exciting activities to attract readers.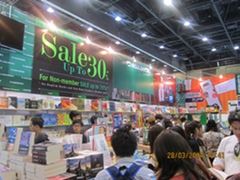 Thai Independent Book Network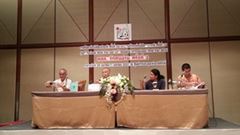 Prior to the book fair, I already marked the significant dates, time, and list of activities that can educate us how the Thai book market has been driven towards excellence. The first seminar I chose to attend was hosted by Thai Independent Book Network ("เครือข่ายธุรกิจหนังสืออิสระขนาดเล็ก" in Thai) on March 28. The topic of discussion addressed several key challenges in the current Thai publishing industry covering the independent publishers' struggling future and the existence of literary fiction.
The network itself is turning three this year, originally founded in June 2012, as an aftermath of a seminar that discussed the success of Thai independent book network. One of the main objectives of the network originated from the near-critical condition of small indie bookstores that had forced them to cease its operation or operate their business with financial difficulties. Instead of going out of business, they formed a network that had become a sanctuary for small publishers to depend on.
New Literary Standard in Thailand
Spearheaded by Ruangdej Chantarakiri, owner of Rahaskadee publishing house, and Vachira Buason, editor at large of Samanchonbooks, the network annually organizes a literary book event known as "Thai Independent Book Network Week" that will be held at indie bookstores across nine provinces. In addition to the book network week, "(Literary) Standard Limited Edition" (มาตรฐานวรรณกรรมพิมพ์จำกัด: มวจ.) is also publicized by the network to standardize literary works focused on quality in terms of content provision, editorial inspection, and manufacturing production. Books that are eligible for this standard must be classical and contemporary literature.
Rules and Regulation to Increase a Book's Value
There are some caveats that play important roles in increasing the value for books apart from the cover price. For instance, certified books must be printed in 1,500 print run for the first time or printed at least 10 years after the first edition. Each book will be numbered in the first page to say the order of the print run (e.g. 1/1,500), autographed by the author, translator, or editor, and priced not lower than the cover price except it is pre-ordered. Readers are obligated to pay directly to the publisher before the book gets published so the publisher does not have to experience loss. Future writing projects can also seek this type of crowdfunding to lessen the risk in prints. One of the interesting pricing strategies about the standard is price-reverting policy; instead of the publishers promoting book discounts constantly, the new standard disallows them to sell the book at a price lower than the cover price and so helps support editorial works and future content development for the industry as a whole.
Store Management of Bookstore Chain
Referring to the seminar, Khun Ruangdej provided a backstory of what several indie publishers are facing at the moment. When the two main bookstore chains, Amarin and Se-Ed, become the optimal choice for publishers to showcase the products, it comes natural for their store management to stock fast-selling books along with other products that can reward them with high ROI. However, they are more willing to stock non-books products, up to 40% approximately, such as stationery, gift shop accessories, etc. For the store, stocking the slow-selling products like literary fiction will likely jeopardize their ability to cover the operational expenses e.g. rental cost. "What will happen if bookselling percentage continues to decrease," he asks.
Thai Independent Publishing Industry Overview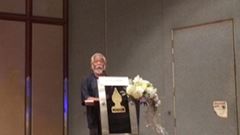 Suchart Sawatsri, a literary veteran who founded Karaket Laurel literary award, gave an honorary speech to further discuss Thai independent publishing industry. "It is too bad that many Thai readers have not had the chance to read world-class books that should have been translated when they are printed," he said. For indie publishers of literary works, they should be well aware of the current market that could reverse their idealism to print. Despite the booming number of new graduates, it might be alarming that even 1,000 literary fiction books have not been successfully sold out. He also points out a major loophole in Thai education system that does not produce the type of quality reader. Comparing to the literary development in Japan, the government even supported the translation of foreign works during the Meiji period so that people did not have to understand the language to learn from literary works. In Thailand, many publishers can fulfill their ideology in the short run by investing in a book project of their choice. The sad reality is that they eventually go out of business after publishing quality books.
Networked Cooperation
Thai Independent Book Network can provide solution to the lack of readership among the indie publishers in many ways. Working together as a network is one way to drive authors to grow with readers as the latter determines the book's quality. Print on Demand is another way to lessen the publisher's risk to publish based on readers' demand. In the society where big fish eat little fish and readers are not likely to read literary books, publishers need to have a lot of patience and get rid of their ambitious individuality by developing readers-centric mentality. Unless indie authors are financially supported by sugar daddy or mama or the indie publisher being traded in the stock market, hoping the impossible is nothing but hurt. Imagine your reader as a downstream supporter; they will have to wait for the publisher or author who are seen as upstream providers to feed the demand. This way, if you are not paying enough attention to their demand, chances are readers are seeking other upstream providers who can understand their needs better. That is why the book culture needs to be strengthened in a networked environment.
Indie Book Network Member's Challenges
One of the indie book network members, Thaweesak Kaeokhem, shared his struggle to get his own small publisher going. He estimated the amount of 100,000 Baht (US$ 3,030) investing on paying for debts that he had owed and setting up a publisher. Based on his prolific experience working as an editor, he was determined to get some of the manuscripts he had published. His ambition was fulfilled after he could sell up to 1,500 copies of the Thai version of Brother Karamazov in six months. Unfortunately, that was the only literary fiction that really sold. As he struggled to maintain in the business, he chose to moonlight as an editor to support his business. He saw the problem with the current model of distribution when the small publisher needs to get the advance to run their operation from the distributor when they estimate the distribution in the next 4 months.
Crowdfunding to Prevent Unstoppable Discounts
Book discount is another issue that can cripple indie bookstore's competition. Reversing the trend of slashing the price to the lowest, the literary standard governs that the book should not be sold less than the cover price not only to reflect the raw cost, but does also prevent the chain store and independent bookstore from getting in a price war. Once the standard helps stabilize the book price, the discount can be given to those who pre-order the book. 20% discount can be given to early supporters who want to crowdfund the book. This way the publisher will benefit from their sales directly as well as the readers can enjoy reading the book that is hand-delivered by people who write the book. Apart from crowdfunding, the indie bookstore can think of more ways to engage readers in their store; for example, organizing special activities for people to meet the owner and being a matchmaker to recommend books.
For small publishers and indie bookstores to replicate what Amazon has achieved in the form of a long tail distribution, it is nearly impossible in Thailand right now as they need sky-high investment. Besides, selling new books is not a golden ticket for the bookstore to get rich fast. However, they can sell used books which can earn them 100 – 200% profit especially through online sales. Another alternative to prevent loss is to set up a website with questionnaire to predict demand for the book.
Serializing Mystery Novel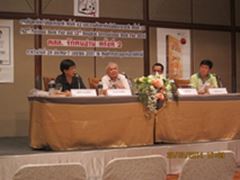 In the next seminar, Win Lyovarin, Wisit Po, and Jatawaluck discussed the situation of serializing mystery novel in Thailand. Being a two-time winner of the S.E.A. Write Award who has authored many literary works, Win admitted that a popular fiction sells better than literary fiction.
Despite his award-winning achievement, Win adopts a new pen name to dabble in the mystery genre; the name draws the inspiration from the country music that he has grown attached to. For Jatawaluck, his name derives from the Thai translation of Sir Arthur Conan Doyle's book title The Sign of the Four. Based on his professional experience working as a translator of academic texts, he finds it effortless to pen a technology crime novel using his direct experience to create plots and characters. Although he does not have any problem with writing, marketing and distribution are the challenges that seem to lessen his books' discoverability. Beyond his control, sometimes his books are placed among translated works and usually the seller does not recommend Thai books. Worse than that, the salesperson usually recommends foreign works. Last but not least, Wisit said he wanted to dedicate his time to writing. It may take one full year to release a book yet serializing existing characters can free up his time to invent new characters all the time.
Print on (Reader-centric) Demand
It remains to be seen how small publishers can compete with large publishers when some of them are committed to publishing literary fiction. The struggle for the founders of Thai independent book network who has put a lot of effort into shaping the standard that will increase of books published in literary genre. Based on the direct experience of many small publishers, it is a tough call to remain self-sustainable and even profitable; however, the founder believes that the new literary standard combined with crowdfunding sales model can help small publishers avoid the risk or repeat the same mistakes that affect others. For authors who wish to branch out their creativity, diversification into other genres like mystery is one of the ways to grow their fan base. However, several challenges remain when their works must compete not only with local works, but also battling with the sea of foreign language works. Better still, publishers realize the value of working as a team and hopefully this very unity will shine through and carried for the sake of reader's demand.
Label: eBook Industry News
comments powered by

Disqus