Posted on 2014-Jul-15
Book 2 Complete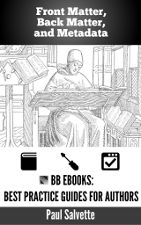 We finally completed the next book in our Best Practice Guides for Authors series. This one focuses on discussing the ins and outs of front matter, back matter, and metadata and how to make it work for you. Think of it as a cheap alternative to the Chicago Manual of Style with helpful tips for eBooks. Thank you to our clients who helped make this book a reality.
This Best Practice Guide is free; however, it still says $0.99 on Amazon. Please feel free to help us out by telling the Zon that it is already free at Google Play and Smashwords through Amazon's feedback submission widget. We hope that this will help in your publishing endeavors.
Full Blurb
In the modern world of publishing where authors are expected to publish several books a year, standards and literary traditions that have existed for centuries can understandably be overlooked. Additionally, in the rush to place a book on the market, authors often do not adequately utilize the excellent opportunity to promote themselves from within their own books. With modern technology, we can do better.
As part of the Best Practice Guides for Authors from BB eBooks, Front Matter, Back Matter, and Metadata is a short guide that will help you:
Ensure you have front matter and back matter that is organized properly to give your book a professional look
Understand what metadata can be embedded within an eBook and how it relates to discoverability
Gain comprehension of how more complicated back matter like an Index and Notes section can function in an eBook
Utilize vendor-specific buy links to boost your sales and author brand
Pick up a copy of Front Matter, Back Matter, and Metadata and improve your publishing level of knowledge to give you a professional edge.
Download Now
Available at:
Direct Download: at our guides page.
Label: BB eBooks Company News
comments powered by

Disqus