Posted on 2013-Nov-04
In-House Multiplication

Lately, Amazon has done all they can to empower book promotion through its multiplying new publishing arms and sales tools. With so many imprints, readers might not remember all of them but today's program will be something people will look for in the first place since it carries the self-explanatory description.
Kindle Readers Get It First
Kindle First receives its inauguration as it is hailed to be the loudspeaker of Kindle-exclusive titles. What it does is allows Kindle readers to buy Amazon-published titles one month prior to their official release. The promotion price translates into $1.99 but the catalog is still in its infancy stage as they currently offer 4 titles: Deborah Reed's 'Things We Set on Fire', Connie Brockway's 'No Place for a Dame', J. R. Rain's 'Silent Echo', and Gloria Gaynor's 'We Will Survive: True Stories of Encouragement, Inspiration, and the Power of Song.' With this exclusive offer, Kindle readers will be the first to buy the book off the shelf while bypassing the release date and pre-order price.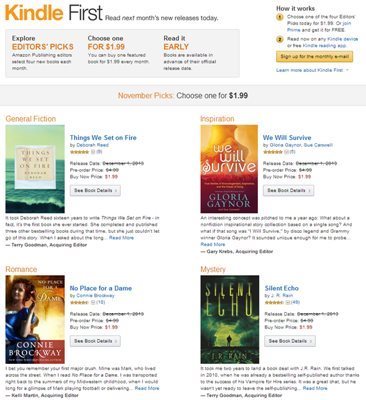 Tough Competition in India

Despite having launched several programs internationally, it looks like Amazon still faces a tough competition in certain markets where local competitors are known for their flexibility. In India, the giant retailer has recently improved its internal delivery process to make sure their customers will receive their purchased books on time and error-free. According to Reuters, India is Amazon's third market after Brazil and China that its company's Vice president and Country Manager, Amit Agarwal, said would take time to pay off. However, since most Indians do not have a credit card and less than half of the total number of internet users has shopped online, the poor road conditions and troubled internal policies are not going to help the business. On the contrary, online retail sales in India are predicted to grow to $76B in 2021 yet they will still trail behind the expected growth rate of China to reach $650B in 2020.
One of Amazon's biggest rivals is Flipkart, the company started by 2 ex-Amazon employees 6 years ago. Although they have not made any profit, Flipkart has raised $360 million since July and planned to increase their sales up to $1 billion in 2015.
Xiaomi Upping Its eBook Production Plan
In the Chinese market, it seems Amazon should put Xiaomi on the watch list. This is the company that gives high-end smartphones a second chance to flourish in China. Not only that, the smartphone maker company just hired former Google's VP for Android, Hugo Barra, to supervise its company's global expansion. Apart from launching killer smartphones in their own native land with affordable price tags, Xiaomi still has a secret up its sleeve. Instead of having a dedicated bookstore app, Xiaomi plans to sell content from 30 stores including Qidian and Tencent's QQ bookstore.
Unlike most bookselling retails' prices calculation, Xiaomi comes up with charging their customers RMB 0.03 ($0.005) per thousand characters. Although this might give you a headache to calculate how much you will end up paying to read a book, in practice, a 175-page novel may only cost less than $1 which is still in the acceptable price range for eBook that most Chinese readers are willing to spend according to Tech in Asia. Another secret to Xiaomi's experiment in the eBook business is the acquisition of Doukan last year. Doukan is famous in its own right for being the company that makes 3rd party eReading apps for Amazon Kindle in China.
Bright Future

There is a bigger picture than Amazon spreading its wings internationally to operate their eBook business. Despite its robust launches of several programs domestically, doing business in international markets can be more complicated than it is presented. However, the sales figures in India and China signal a brighter future for investors who are catering to local customers' needs. Regardless of Amazon's presence in both countries, local competitors are ready to bring their knowledgeable skills to the table and significantly grow.
Label: eBook Industry News
comments powered by

Disqus