Posted on 2012-Jul-30

It seems that existing and new writers alike are on the same boat to sell their work in the virtual market. Social connectivity leaves a gigantic footprint everywhere we go from news sites to grocery megastores. However, many independent authors and small presses struggle to create an effective social media strategy. Let's take a look at what may work for you as you endeavor to promote your published work.
How the Big Guys Use Social Media
CNN always urges the reader to comment on their news piece by logging into one of the social media accounts at the bottom of their article. The convenience of expressing free ideas instantly stimulates greater participation. Suddenly, the lonely world of the reader's bedroom is stylized as the co-reporter's office where the reader might have found a hundred other people who they might agree and disagree, dig or dis, follow or unfollow.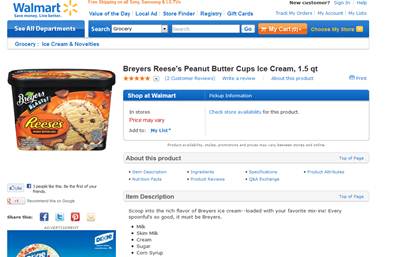 Even Walmart Can Do This
Shopping at the Walmart online store, you can see a similar strategy in the review section of how customers rate food. With informative nutrition facts and attractive cover images, a five-star review of something as banal as Breyers Reese's Peanut Butter Cups Ice Cream generously spices up the product likability by providing user-generated content (at no cost to Walmart). The blue-tinged buttons are seen again in the login options for visitors to opine conveniently. The strong presence of social media has acquired such a seller's prerogative that it has become one of the powerful metrics to measure a product's popularity
Authors and Social Media – An Awkward Relationship
The situation in the literary world is somewhat different. Although, the content owner is expected to constantly provide useful information about their work, it can be rather ineffective, or even pushy, to display promotional items. The informality of the social platforms may appear to create and trite and non-intellectual relationship with followers or friends. Most writers might find this as an irony of situation when they are not expected to sell directly.
Making Social Media Work for You
However, several bloggers suggest alternative strategies to put on a contest and give away your work instead. Chris Brogan talks about setting up "online events", where your followers can enjoy a live experience; Contel Bradford agreeably suggests that blogging attract search engines and eventually direct more potential customers to your promotional space. Notice how Contel's blog has generated a lot of positive comments whereas Chris's turned into a misplaced FAQ session. University of California Press also discusses the advantages of affiliate programs and review. The affiliate program or partner, also mentioned by Contel, is a monitoring tool that can track sales records, product shipment, and become your extra source of income.
From the writer's perspective, Stacey Miller foresees the resistance to participate in the social media initiative. Obviously, time is the most valuable resource for everyone, yet time and privacy have always remained an important sanctuary for writers to create words of art. Writer's resistance might be stemmed from banal discussion of and the time-consuming nature of social media.
The good news is that writers still can promote their works effectively without spending too much time on social websites. Miller's four ways to "create online buzz" are practical and feasible enough to DIY. Her recommendation further points out how outsourcing time-consuming challenges to other experts can save writer's time to focus on their primary skill of writing articles to promote their works.
If free guidance does not suit your professional needs, you may consider browsing Directory of Writers Association. To name a few of their associate links, there are National Writers Association (NWA), Small Publishers, Artists, and Writers Network (SPAWN), and Writer's Guild of America. The website is a huge portal that includes numerous links for writers to subscribe to their paid membership fee and receive industry updates based on specific genres of your expertise or interest. Perhaps, you might want to explore new possibilities to expand your horizon of writing passion right now.
Label: Marketing
comments powered by

Disqus